Note: Before I get into the Master Bedroom I wanted to share some thoughts on the tragic massacre in Newtown, CT last Friday. Unfortunately I was working from home that day with the TV in the background so I was glued to it for hours as the horrific details unfolded. This terrible, terrible thing has rocked our nation to its core and has, I think, made all of us question our faith in humanity. But what I have seen since has restored that faith. The love and kindness expressed from people all over the country is just amazing. One example is the movement called #26Acts, where people are doing 26 acts of kindness to honor the 26 victims. It is spreading like wildfire and I urge you to check it out and participate if you feel inspired. I did. I also truly believe that gun laws are going to change as a result. Probably not as much as many of us may hope, but even re-instituting the assault weapons ban (which I think will happen) can save innocent lives. I could go on, but we'll leave it there. 
After 6 weeks since closing and sleeping in almost every other room in the house (den, dining room, and spare bedroom), we are finally sleeping in our (mostly) complete master bedroom! It feels amazing.
So far this room has undergone new paint, re-finished floors, painted trim, new shoe molding, and new outlets and outlet covers. Plus we moved in all our furniture and hung a couple things on the walls. Voila!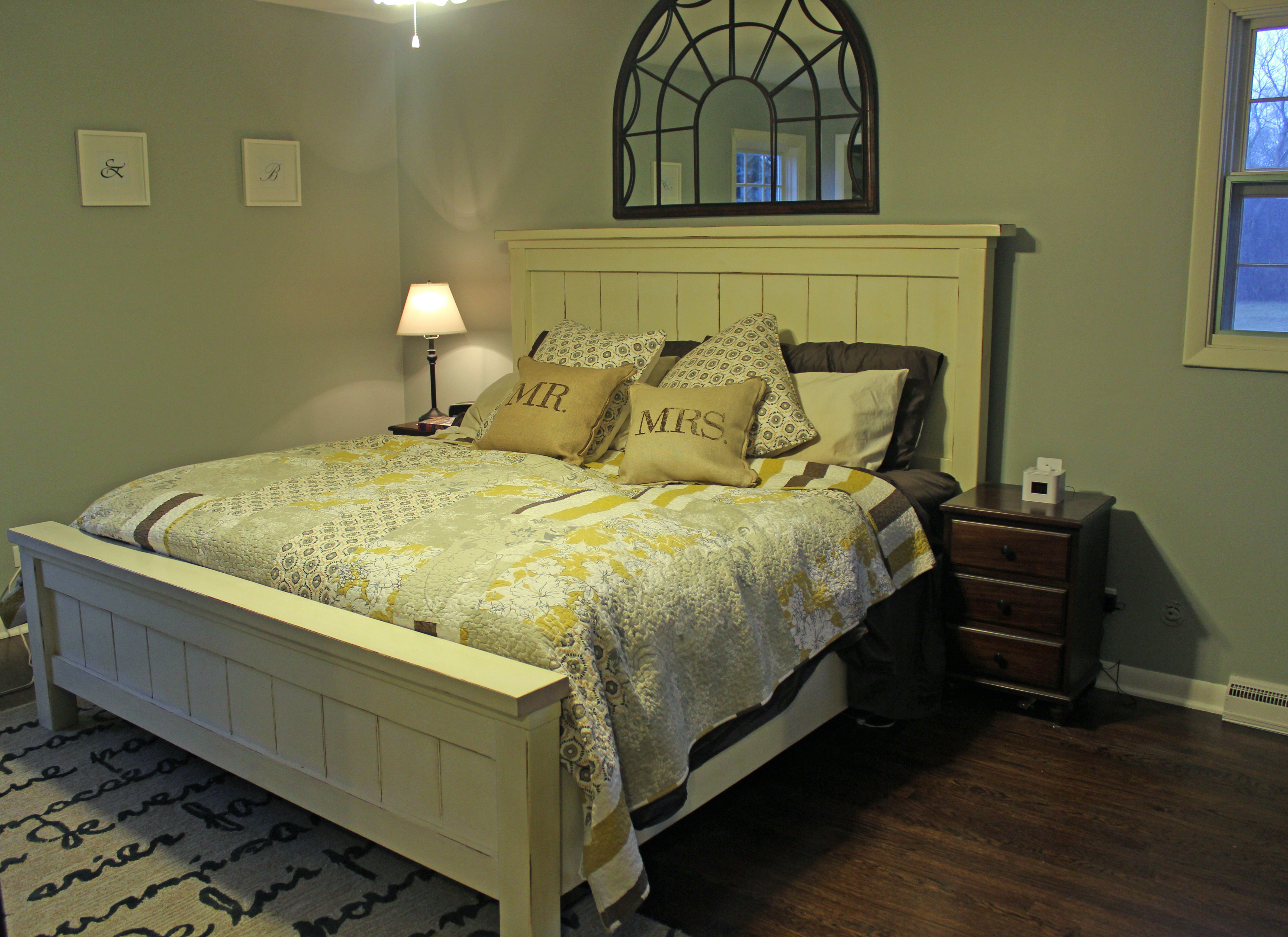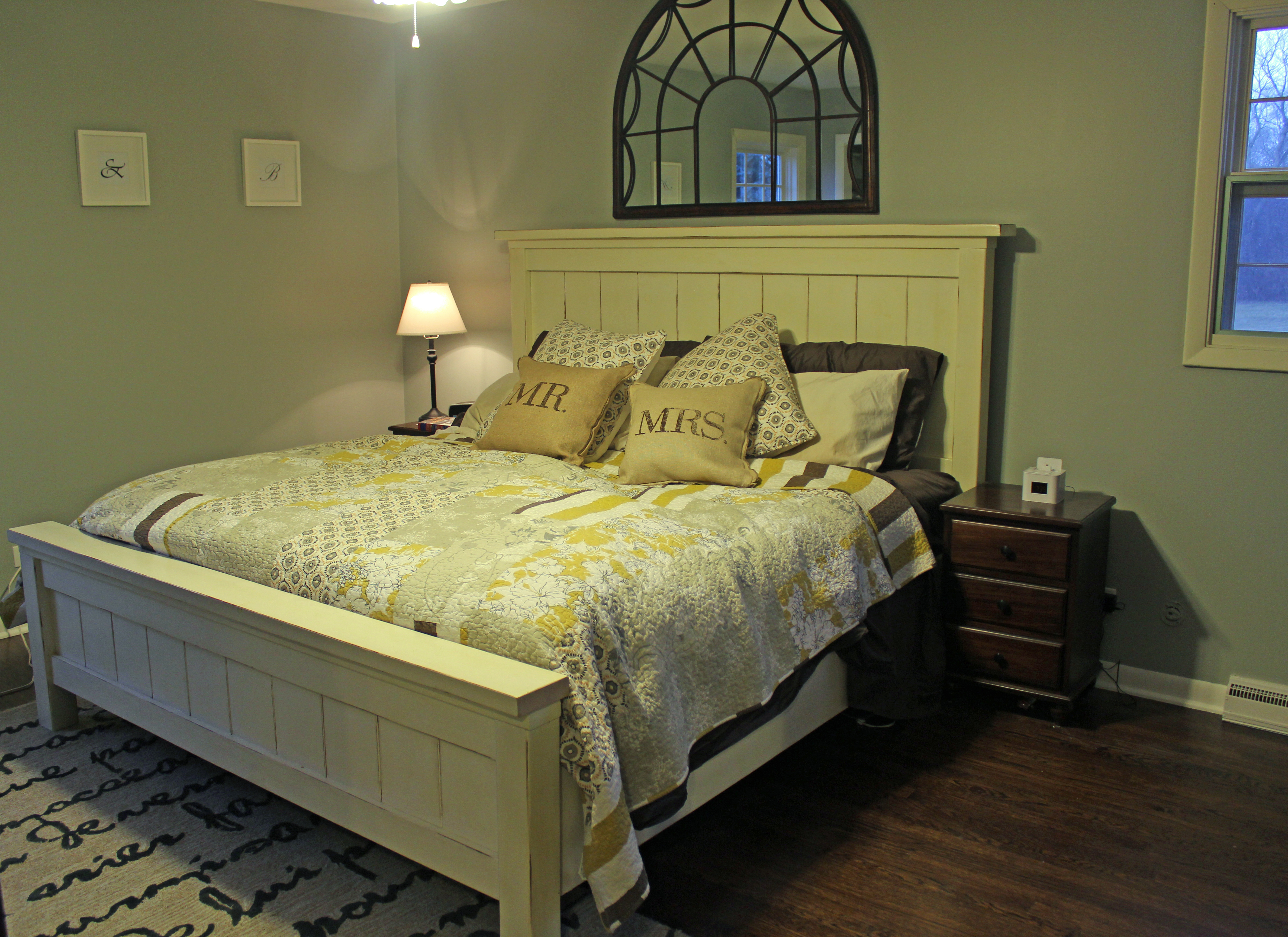 And here's the before:
The only thing missing are the doors, which are still a work in progress after the spray booth didn't turn out as planned. Drip central. Some doors, a new ceiling fan and some decorating and this room will be done.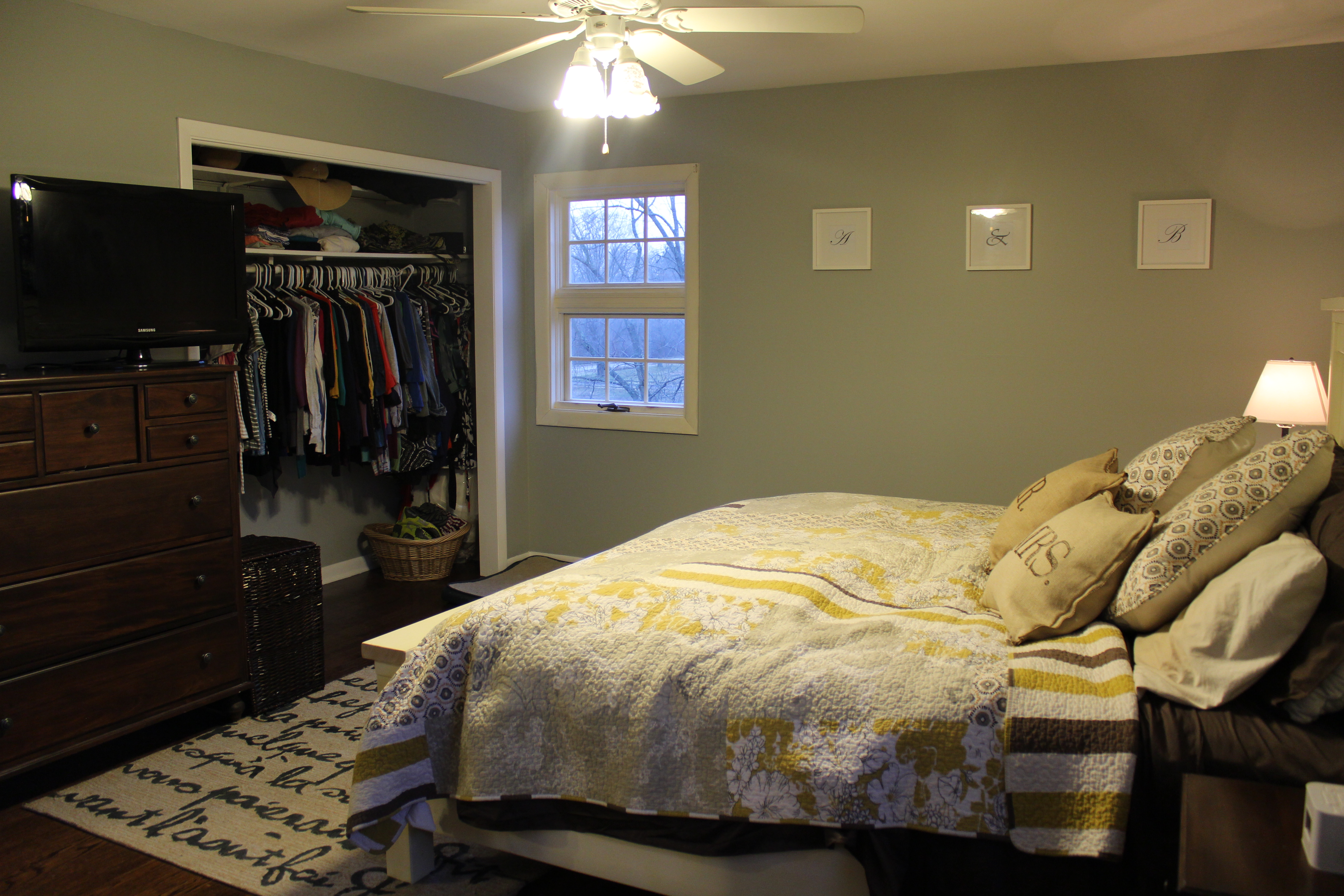 Here are a few sources for anyone that is interested. Our bedding is from Ballard Designs, the large mirror over the bed is from Home Decorators (I got this over half off last year around Thanksgiving), the french writing rug is from Ballard Designs, and those Mr. and Mrs. pillows were a wedding gift from our old neighbors. Aren't they adorable? They are also from Ballard Designs. I'm seeing a trend. The bed we built ourselves a couple of years back according to some Ana White plans. The rest of the furniture in the room was Ben's parents' bedroom furniture which we had stripped and re-finished.
So the last time you saw the Master Bathroom it looked like this.
It wasn't quite working for me for a few reasons:
It's super crowded. That vanity stuck out really far in an already tiny room (not to mention it was covered in seashells!)
The faucet didn't work right and
There was very little storage.
Would you believe that Ben gave this room a mini-makeover while I was away in Miami as a surprise? Some women get flowers and chocolates, I get bathrooms. I'm a lucky girl.
So here it is today, complete with a new $99 vanity from Home Depot and some nice big shelves.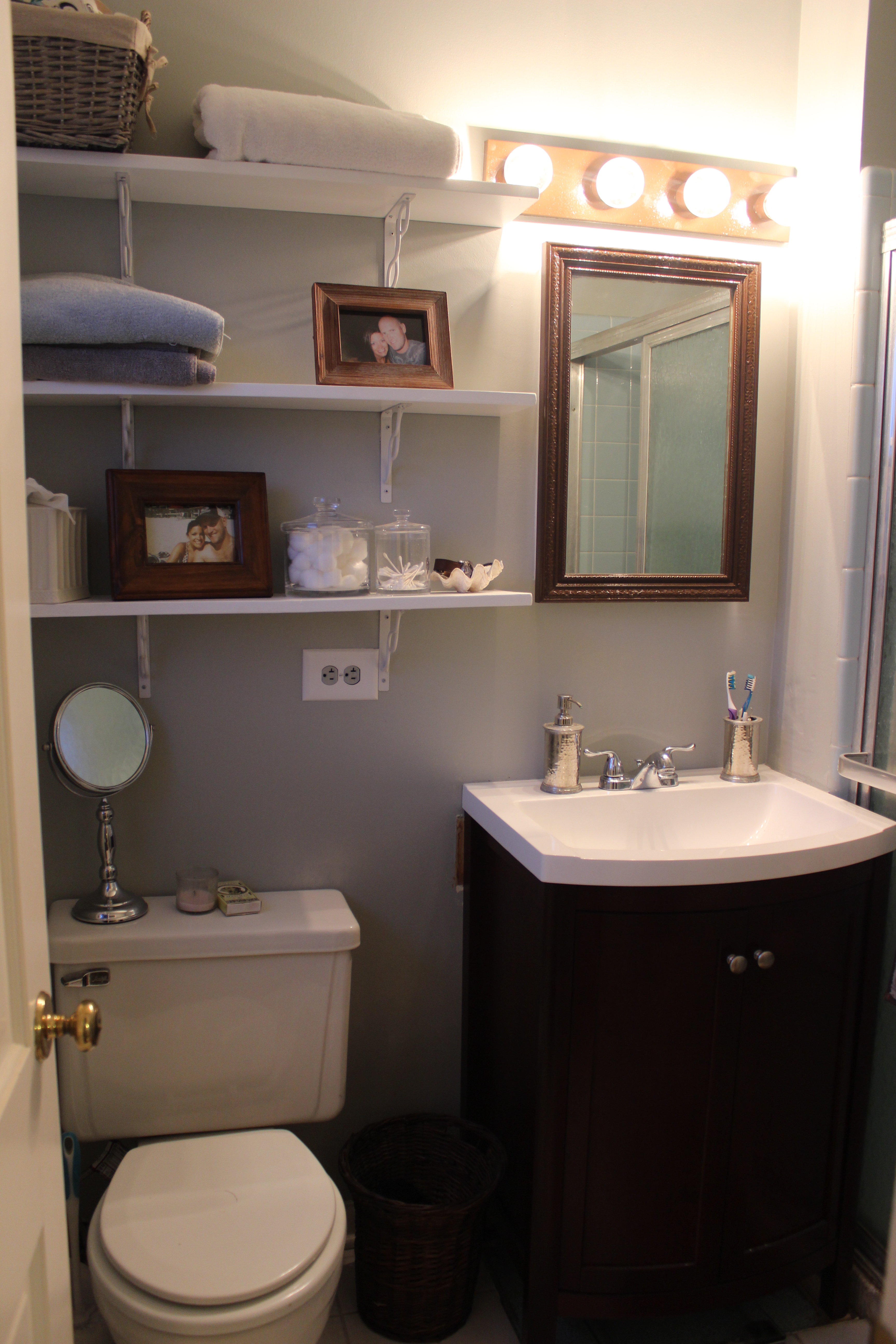 He also quickly painted the medicine cabinet and light, changed out the light bulbs, and ripped out the blue soap dish.
While this is all temporary until we can renovate the entire thing, it has made a huge difference! 500 brownie points for Ben.
And just for fun (my idea of fun at least), this is what it looked like on closing day.
Yeah I will take not dealing with that atrocity over flowers any day.
So what do you think of our Master so far? Also feel free to share any thoughts around Sandy Hook if you feel inclined.