Since there's no better way to light a fire under your arse than a public proclamation of what you want to accomplish, here is our big ole list of what we want to achieve in 2013…
1) Put in Upstairs Hall Bathroom. This will be one of the first things we do in the New Year, since we've already demo'd it due to a faulty/leaky bathtub. I also already put together a mood board so we just need to get moving.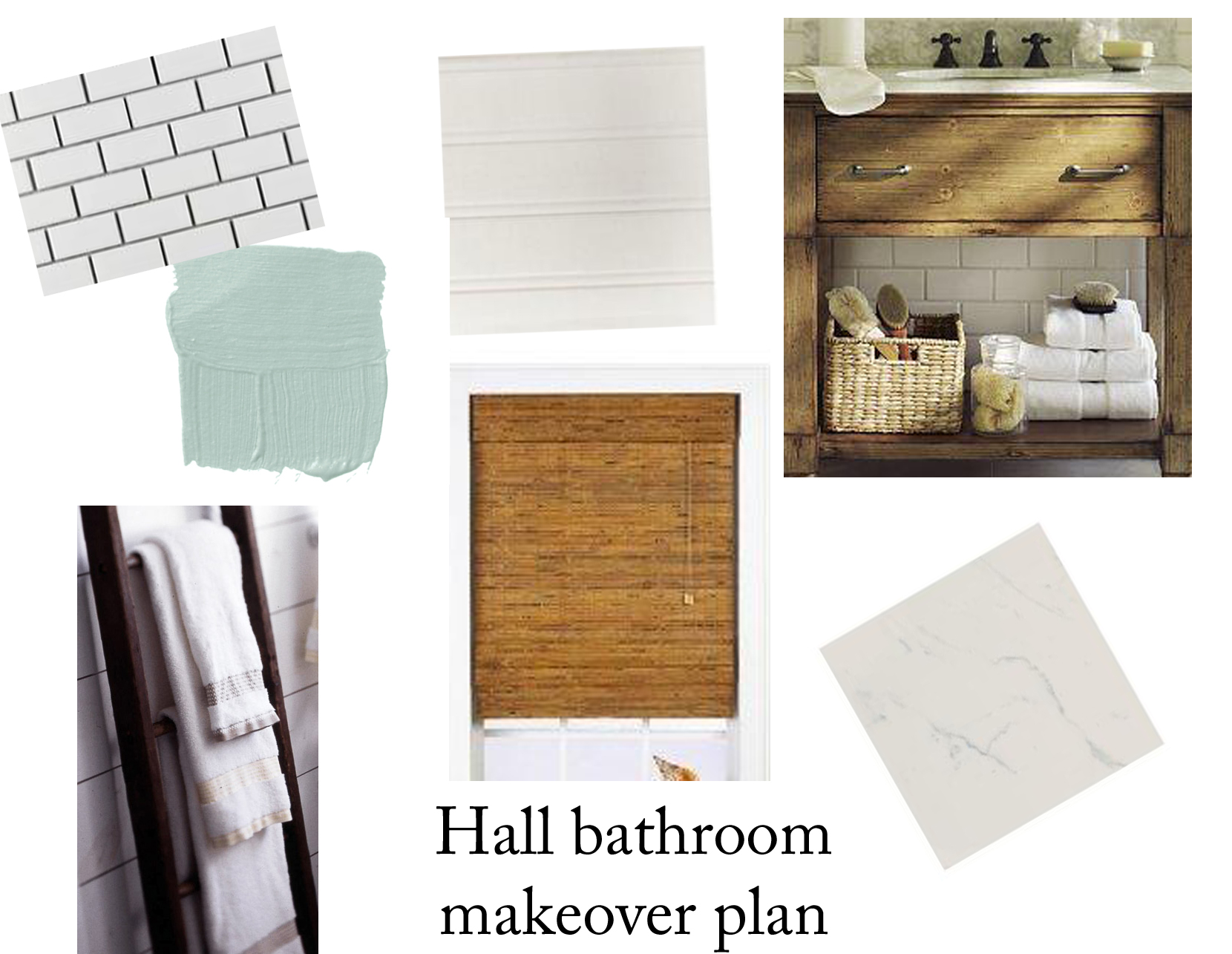 2) Re-locate laundry and renovate first floor powder room. It's still up in the air where the washer and dryer will go at the moment, but the first floor powder room is in desperate need of a makeover. The wall color actually scares me and the sink reminds me of what would be in prison. We did hang some free cabinets Ben got from work which at least adds function and covers up some of that terrible wall color. Oh yeah, did I mention this room doesn't even have a ceiling?
3) Take down a wall to create open floor plan. Taking down the wall between the living room and kitchen is one of the things we're most excited about since it will totally change the feel of the first floor. It is a load bearing wall though, so we are going to consult a structural engineer to ensure we do it correctly without having the house fall over on us.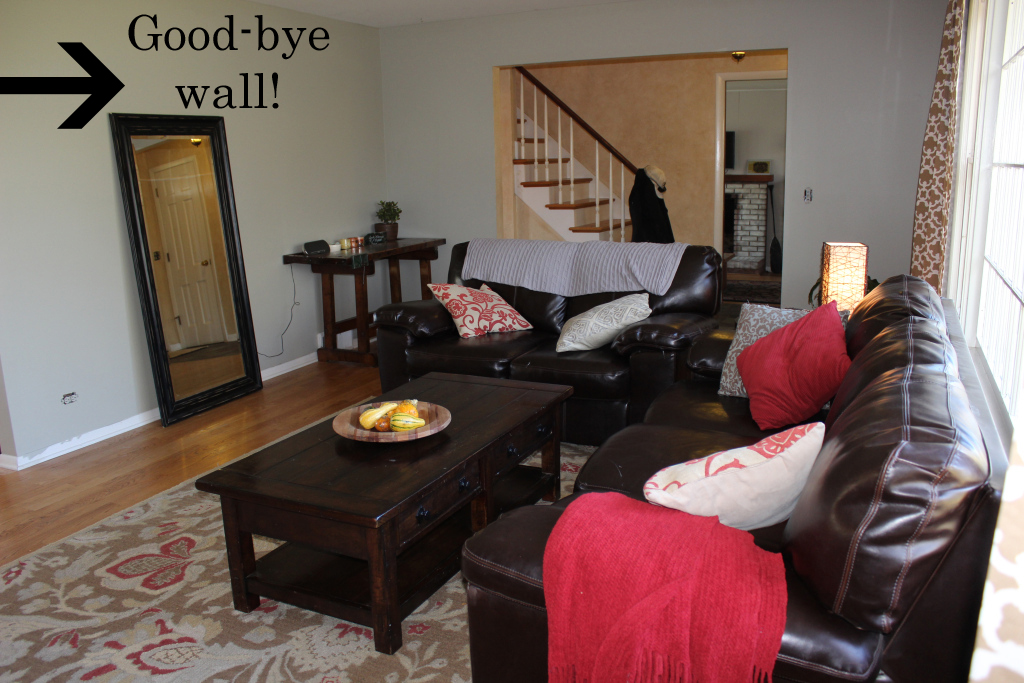 4) Along with taking out the wall, will be adding a kitchen island and renovating the kitchen completely. We'll try to re-purpose the cabinets and the appliances are decent, but this will definately include new floors, countertops, sink, backsplash, lighting, etc.
5) New windows. Our windows are in terrible shape. Some are broken, many don't open, and they all have these weird blue screens. BUT we've already got a quote on new ones, so this will probably happen as soon as the weather gets nice enough to install them.
6) Renovate Master Bathroom. Can we re-do 3 bathrooms in 1 year? I sure hope so. We want to extend the master bathroom by taking out the closet next to it to create a much roomier space.
7)  Get the pool up and running. We of course have to wait until the weather gets nicer in the Spring, but this will be a big job that includes filling cracks, waterproofing, acid washing, painting it, testing plumbing and adding new equipment. But once it's done, I may never leave.
8) Build a deck and/or patio around said pool along with landscaping around it and the rest of the property. Thankfully Ben is friends with a landscape architect so he is going to put a plan together for us. It's a big job but will make a huge difference.
9) Add french doors off of the dining room. We'll replace these windows with french doors leading out to the deck and/or patio.
You may notice a new light fixture in the dining room. We got it from Ballard Designs a couple weeks back. The scale isn't quite right with the table, but Ben is going to build a new dining room table with some native New Zealand wood he has, so it should work better with a bigger table.
10) Paint the house and install new front door. I'm thinking something in the gray family to go with our new roof. I still need to share pics of it which was finished a couple days ago, but it was raining or dark every time I would be able to take a pic, and now it's covered in snow (yay, white Christmas!)
11) Update fireplace in the den. We actually got a free chunky mantle from Ben's work so we need to install/paint that and paint the brick or add stones or wood molding to update it.
12) Add shadowbox molding in dining room and stairs. Plus, we still need to get new railings for the stairs.
13) Put in can lights in living room. We don't have a single light in the living room so we will add can lights. We also need to update fixtures in most rooms in the house.
14) Add hardwood floors in the entry way.  These weird green and red tile will not make the cut.
I'm probably forgetting some things, but I'd say that's plenty to keep us busy for a year. What do you say? Think we can get it all done?