Our backyard area has undergone A TON of changes over the past 2 summers. I last shared an update after we built the deck and retaining wall in May/June 2014.
Here is a view of it from then: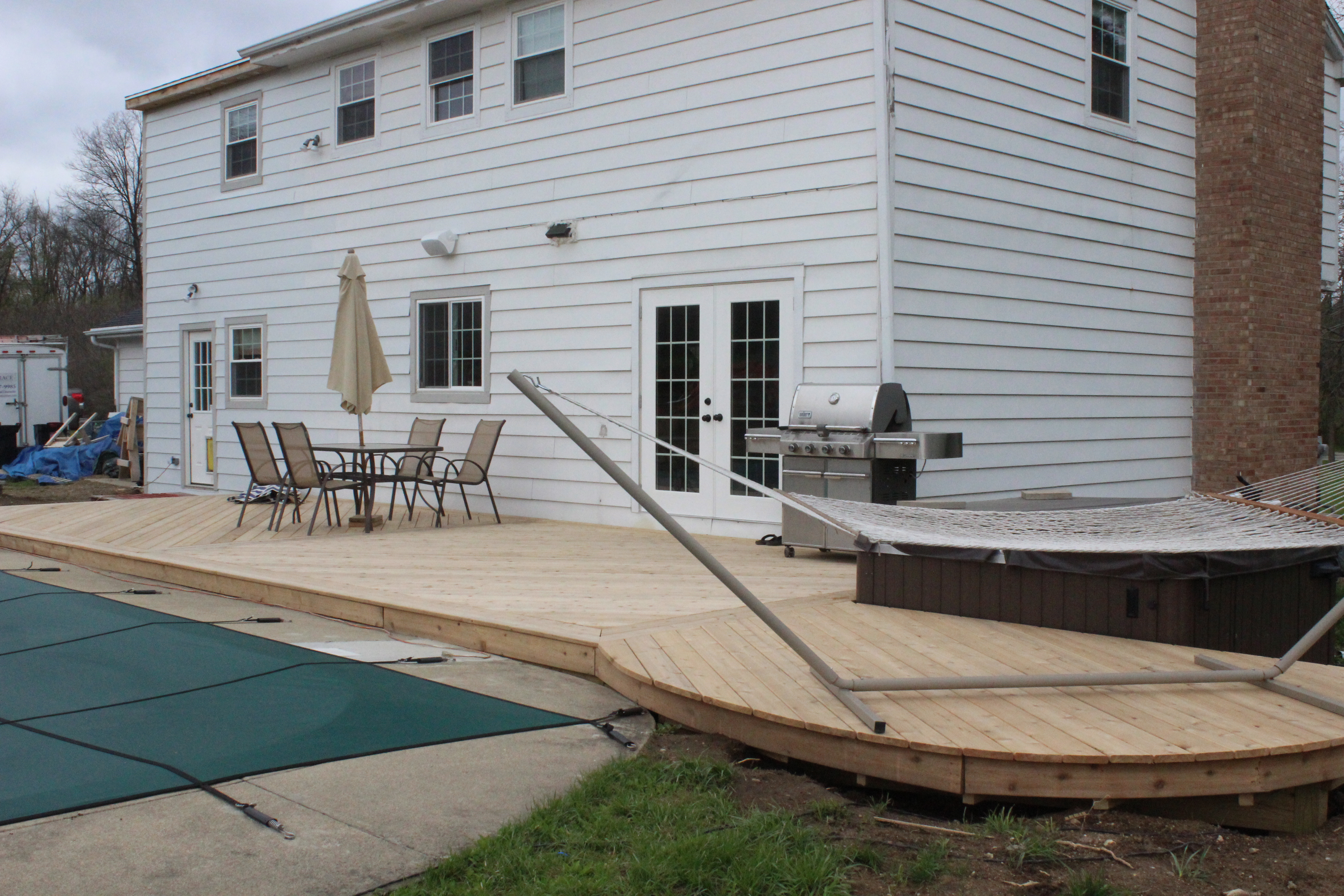 Here it is now: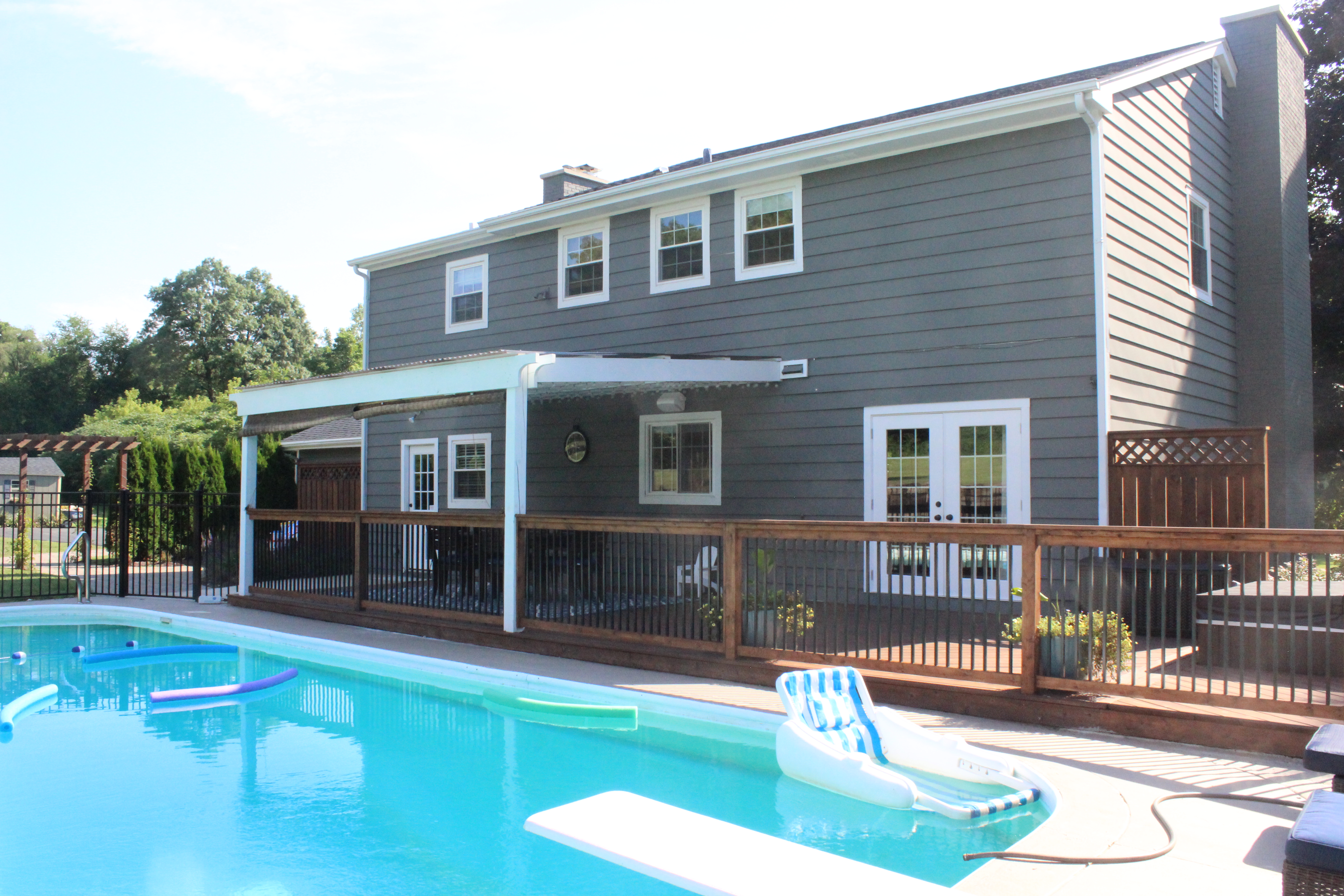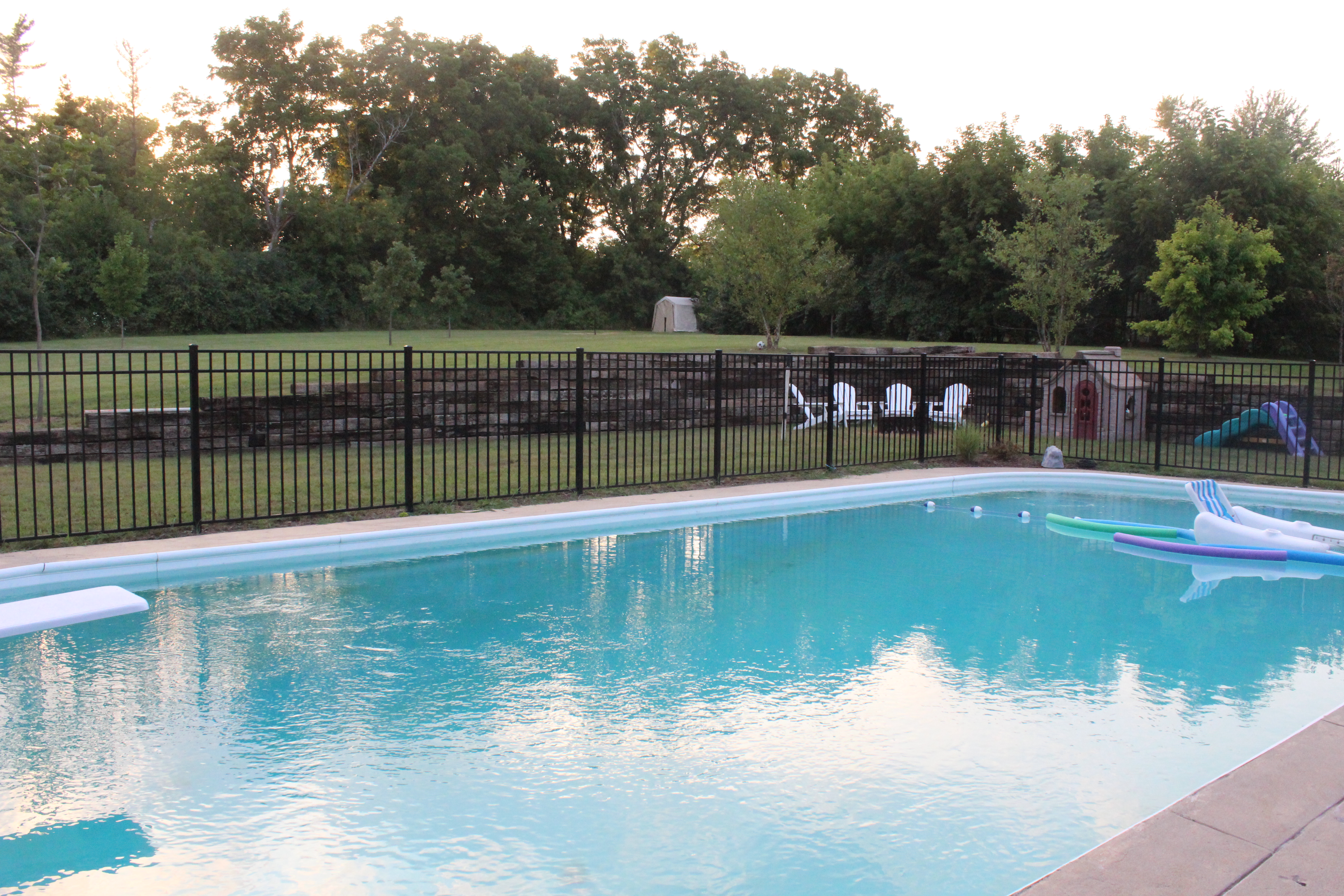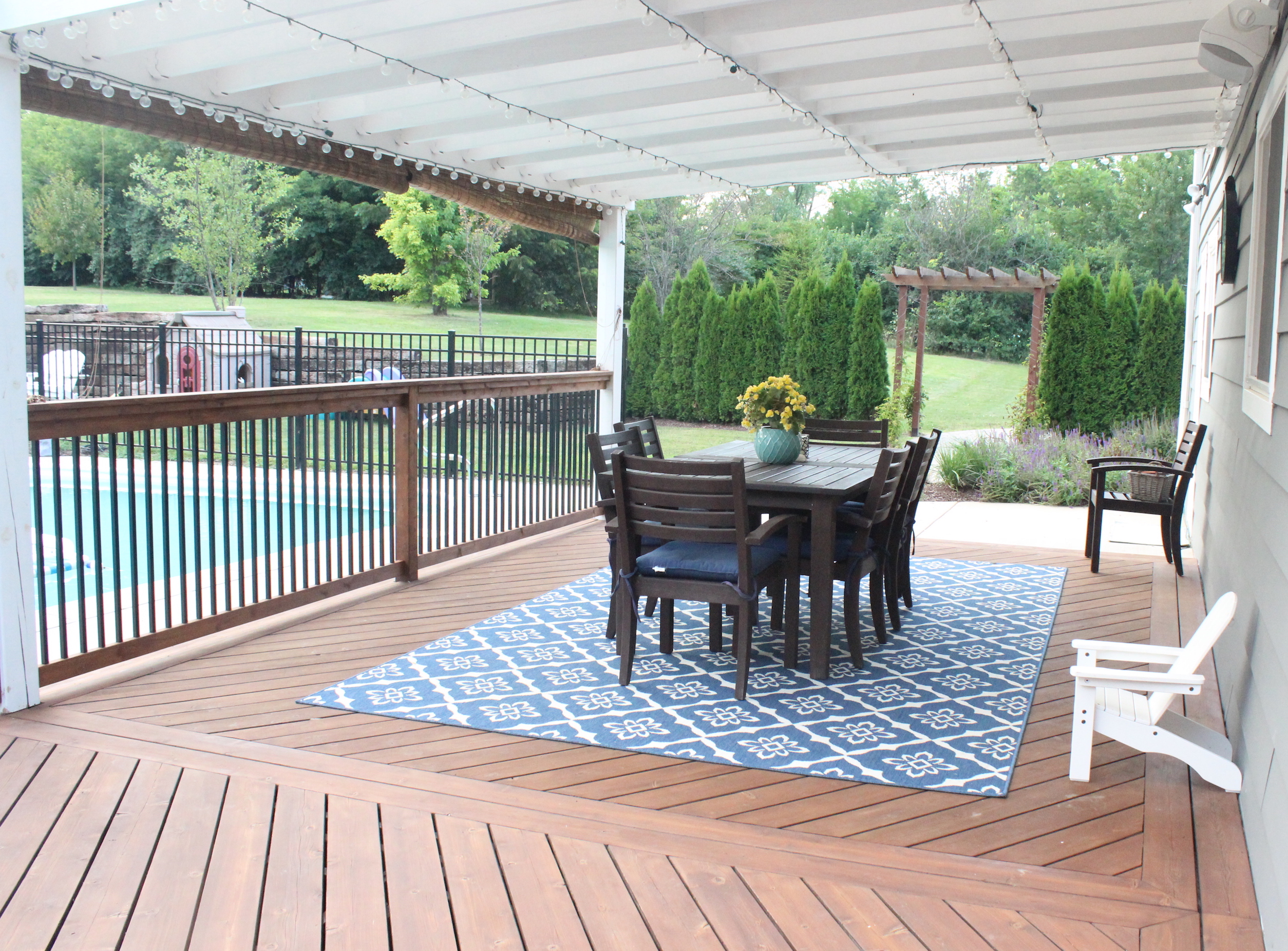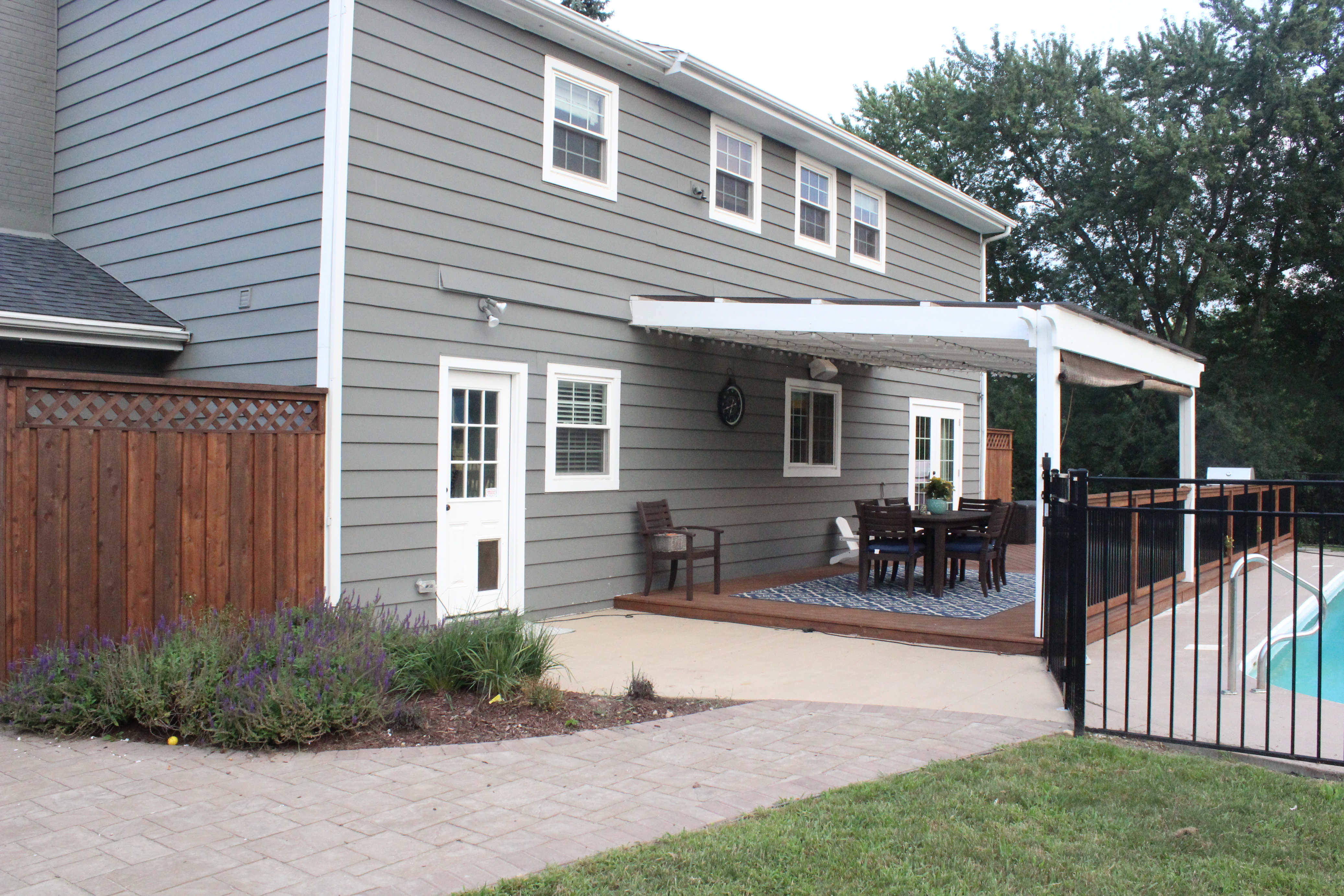 Yeah.. we've been busy.
One of the biggest changes was installing that extra concrete by the back door and a stone path that leads all the way around to the driveway.
Ben put up the arbor which he built prior to our wedding and we got married under. I was so happy to see it get a new life here.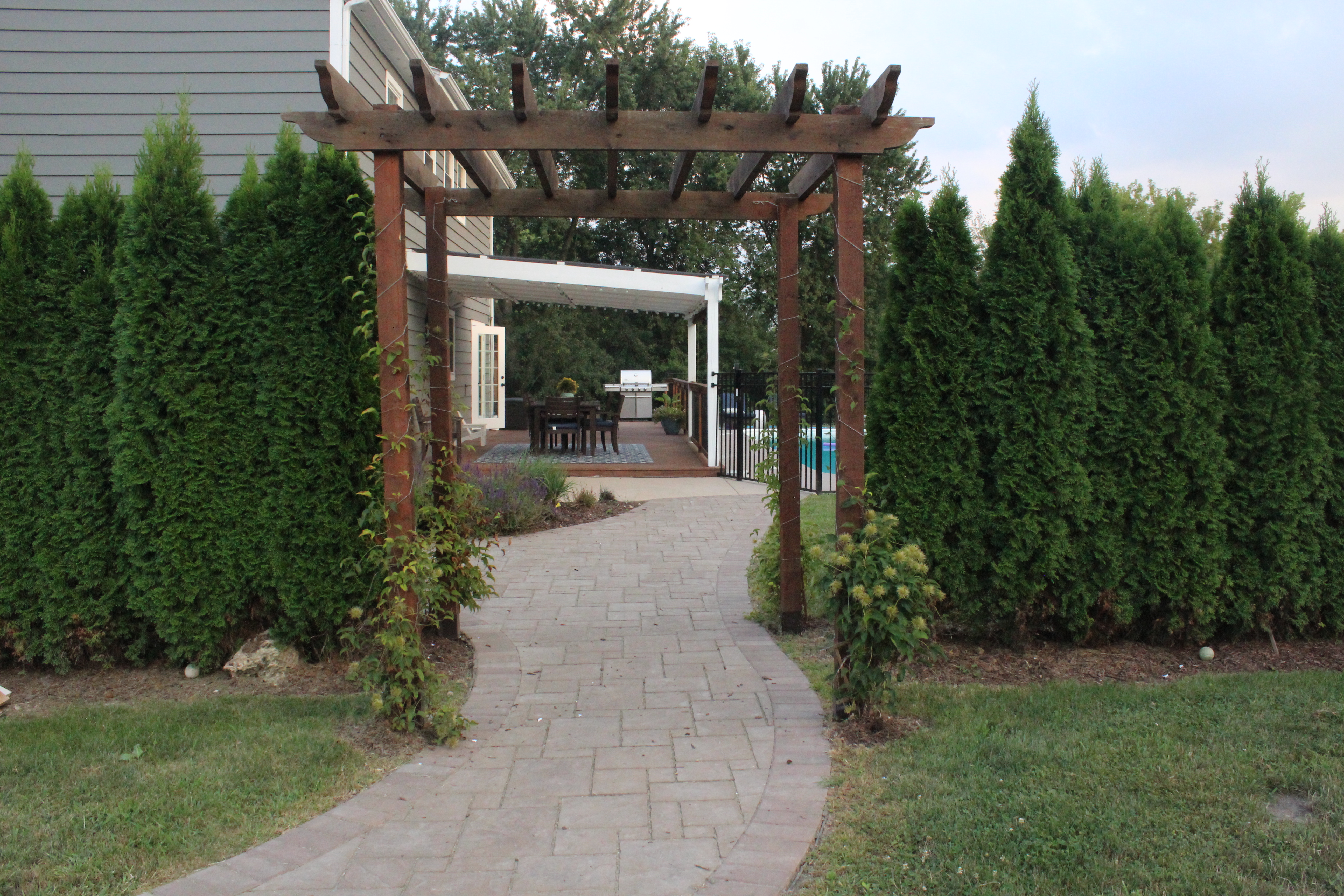 We also planted several arborvitae on either side to really divide the backyard area.
Here's a farther away look, including a look at our new garage door: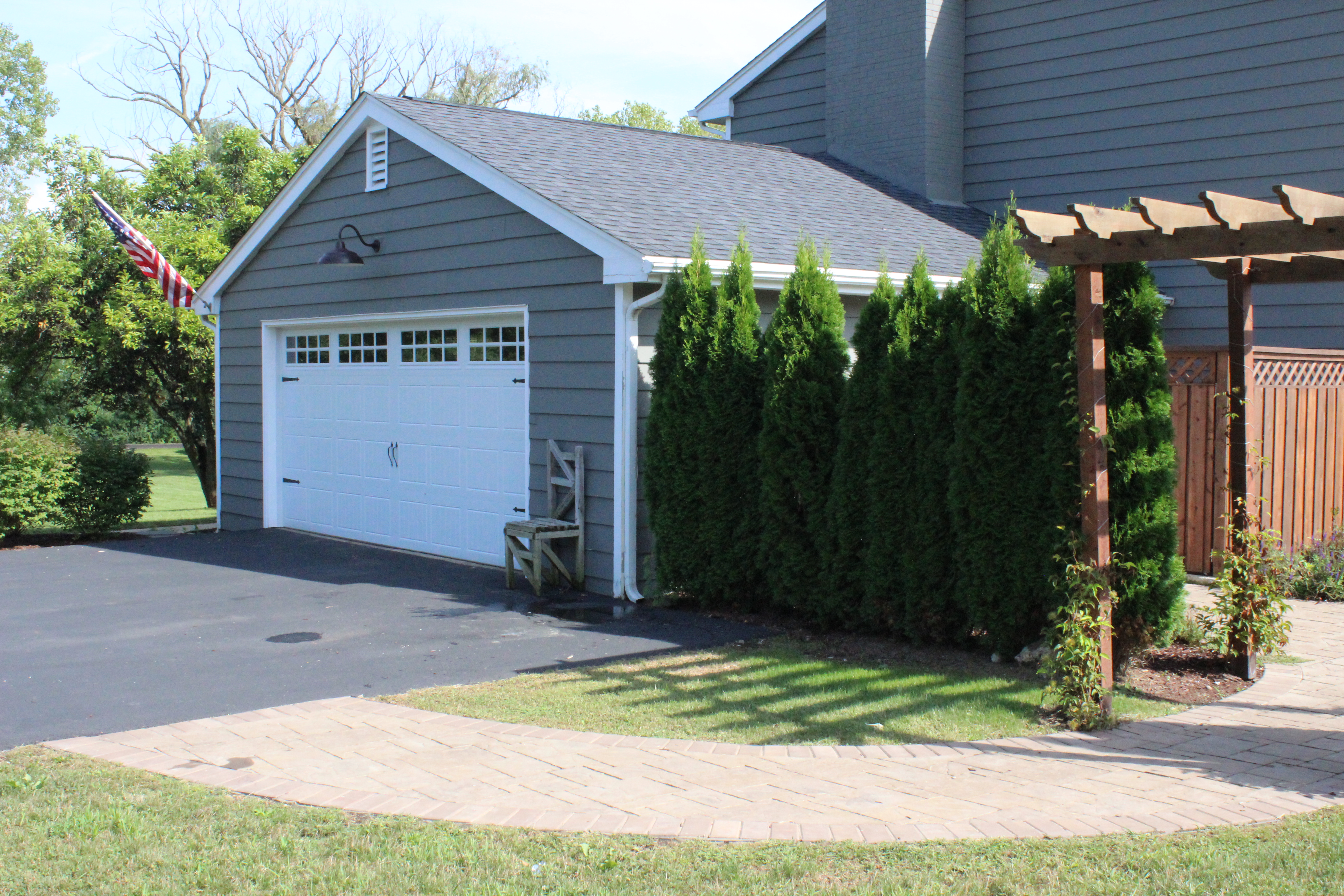 We also built this garbage enclosure which is so functional and keeps our dog out of the trash.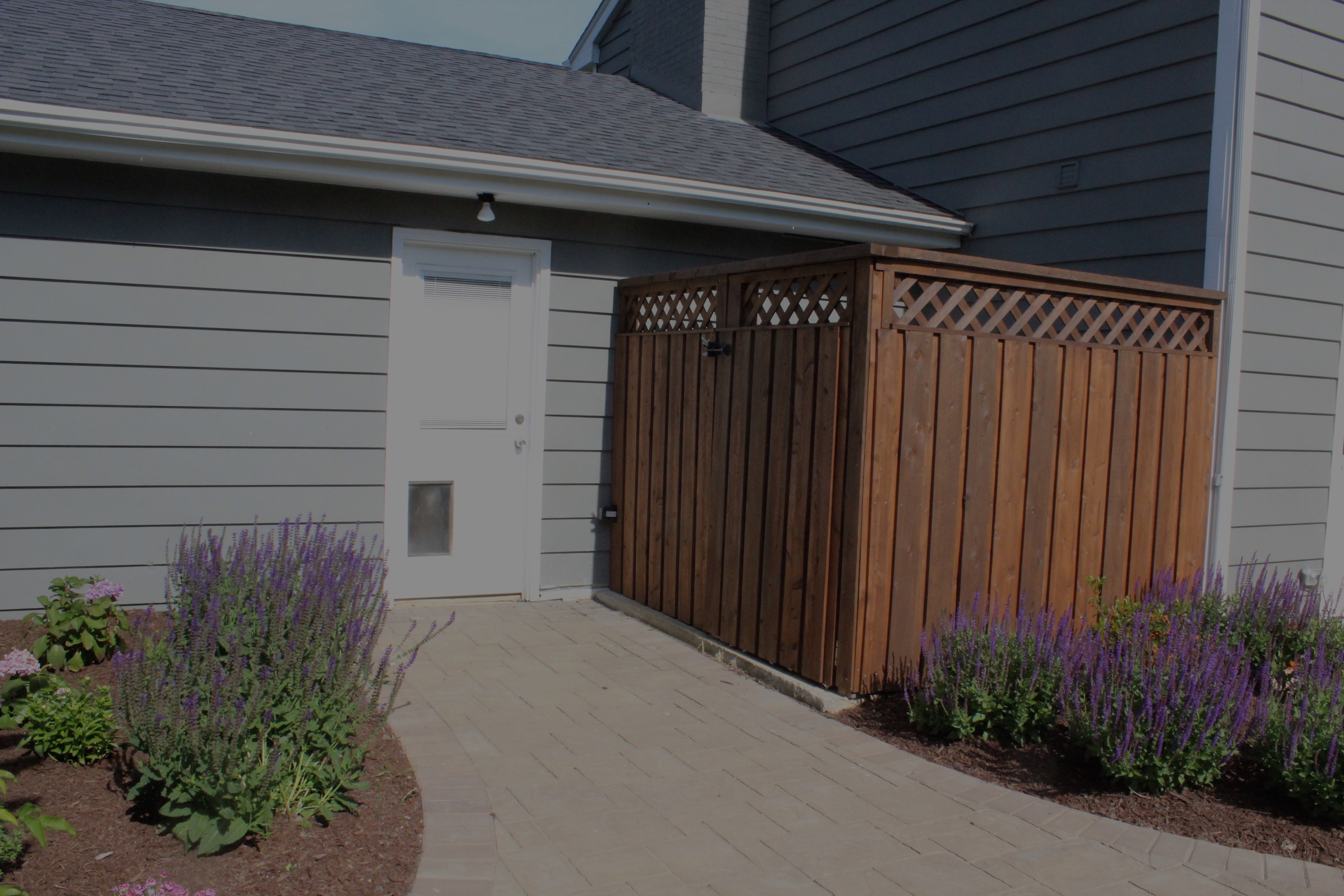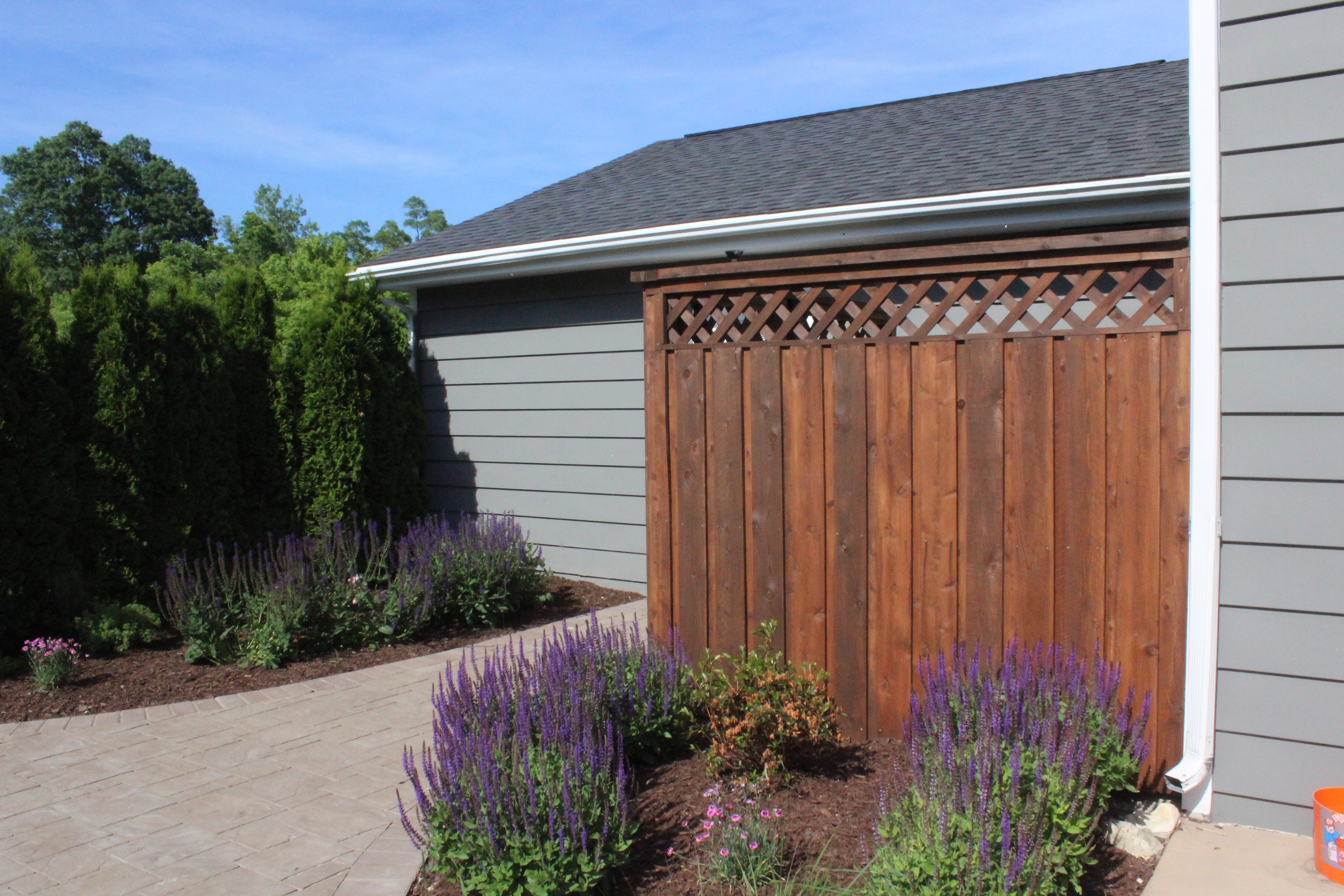 The deck, garbage enclosure and wood part of the fence were all stained the same color, which is a custom color mixing two Rymar Xtreme Weather colors (Hickory Bark and Sienna 50/50). This is supposed to be the best deck stain on the market and should last us many, many years.
Here's a close up of the fence, which Ben built by mixing cedar railings and aluminum fence posts from Home Depot.
The plain aluminum part on the other three sides of the pool we hired a local company for.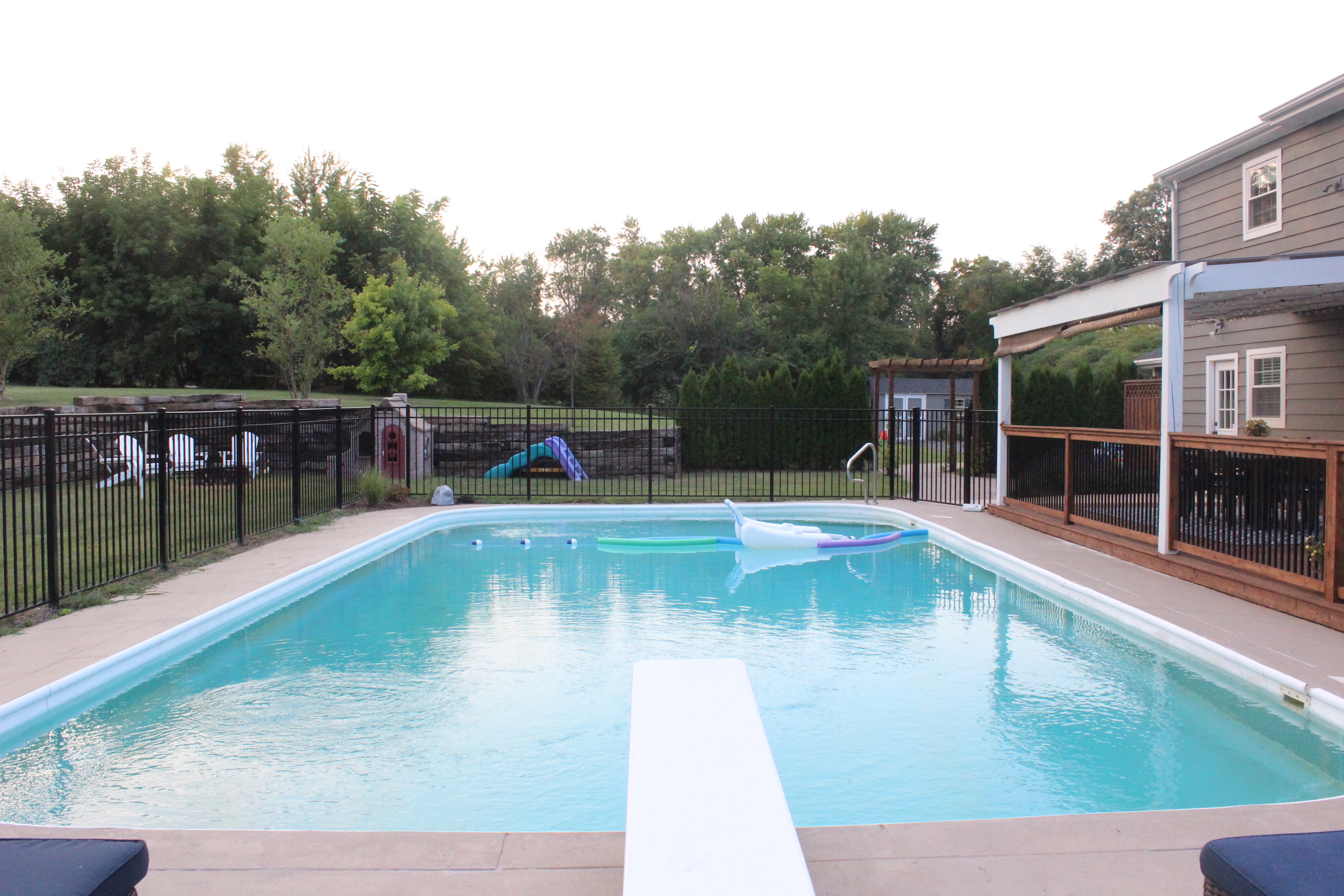 Here's a view of the other side of the pool, and a close up of our new chaise lounges from Target (found here in 6 colors) and a new diving board.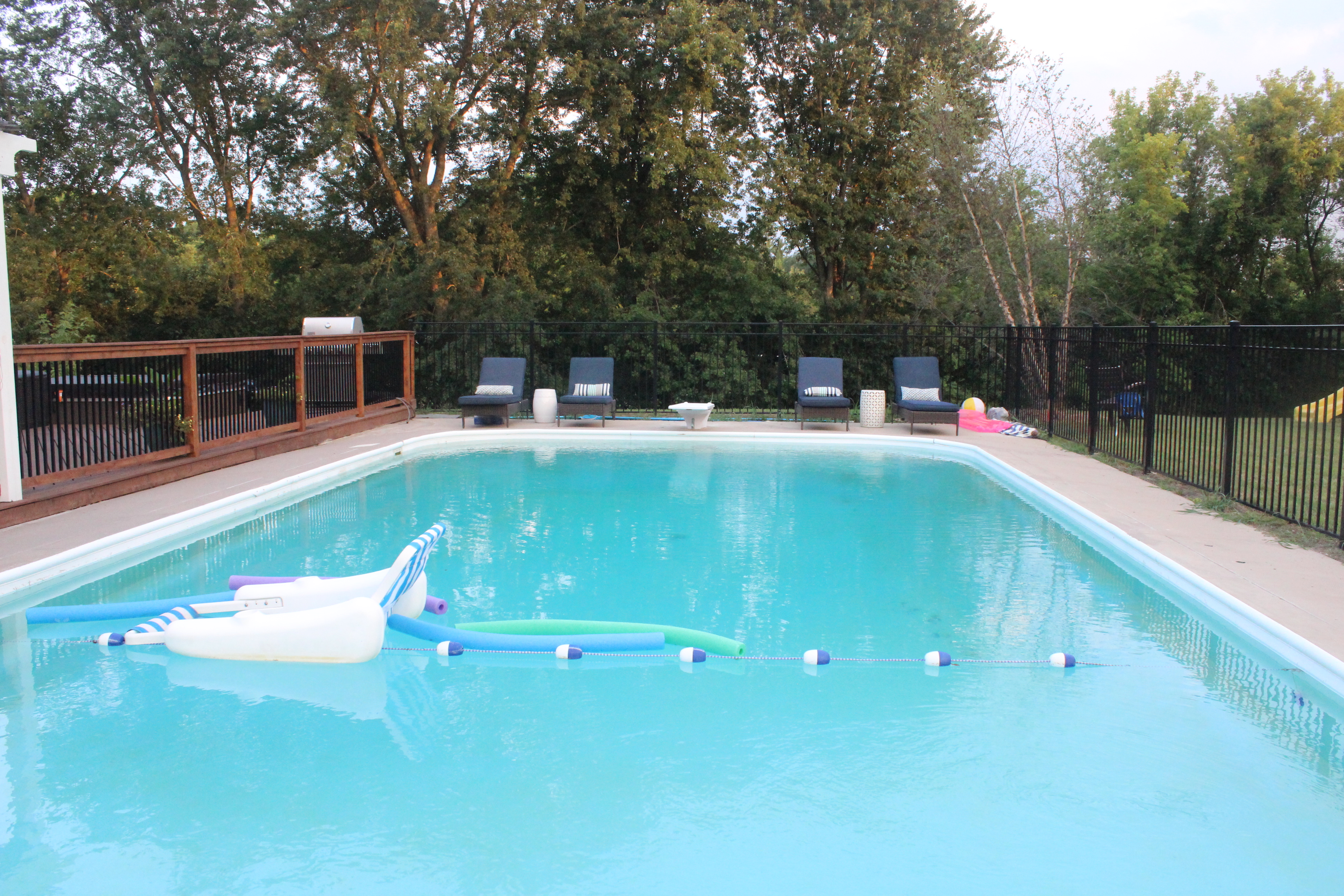 Ben also built a pergola over the back deck which provides much needed shade in the afternoon.
We strung up cafe lights under the pergola (similar here) which provide the perfect amount of ambiance in the evenings.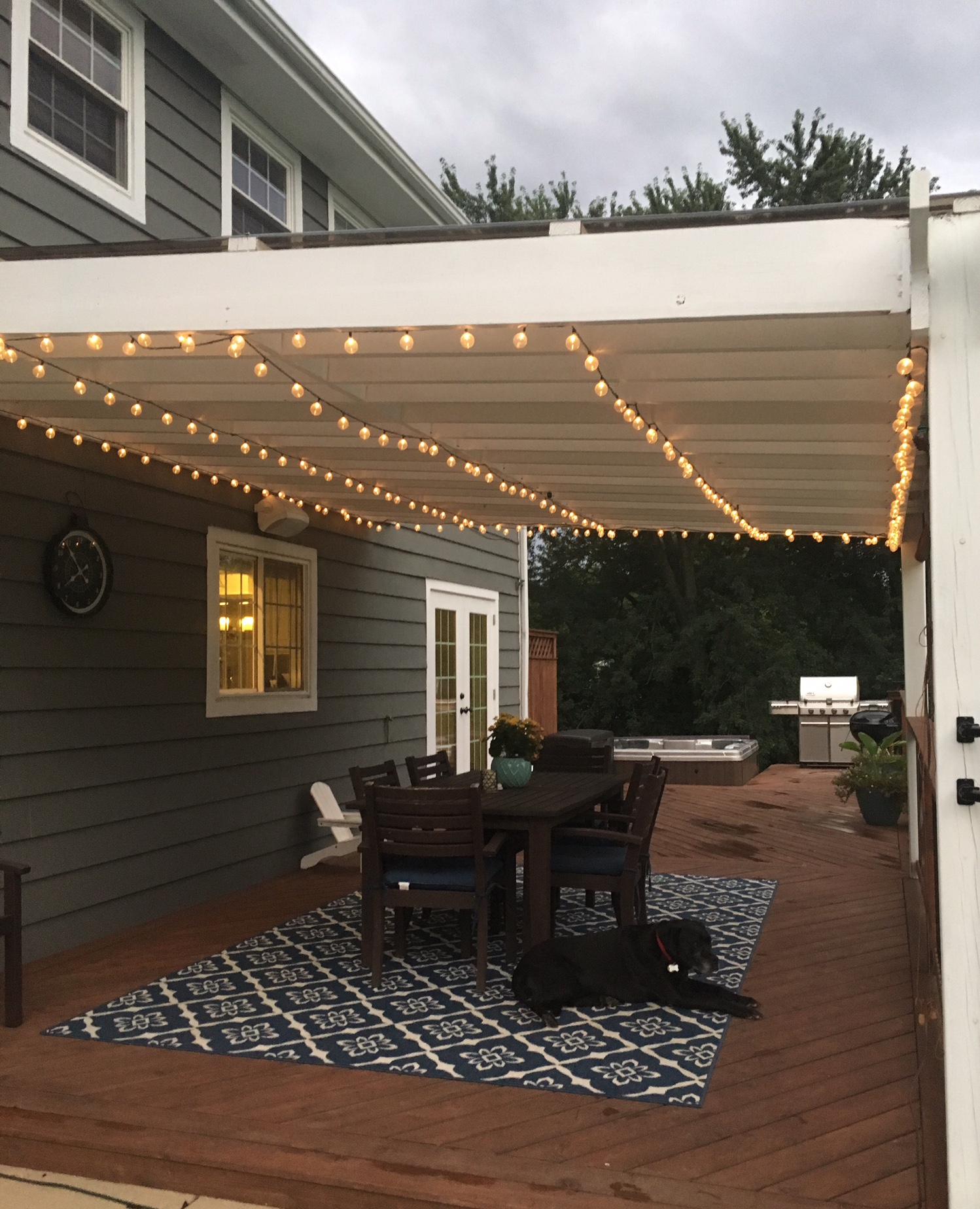 Our outdoor table is from Pottery Barn five or so years ago (similar one here). It was starting to get weathered, so we gave it a quick coat of stain and now it looks as good as new.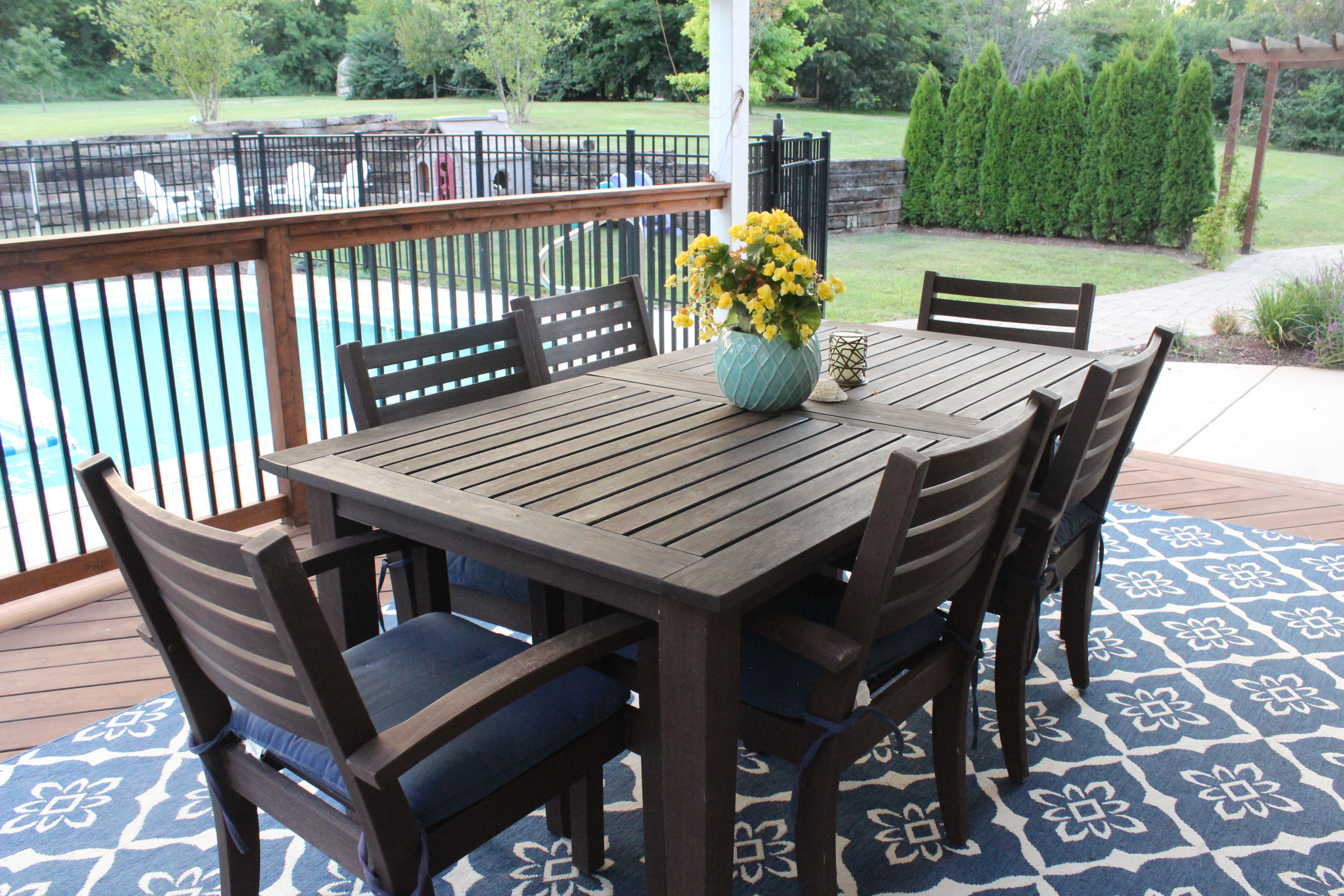 The outdoor rug I purchased this year from Home Decorators (found here).
On the other side of the deck is our hot tub, grill and deck box (from Lowe's here) for pool toy storage.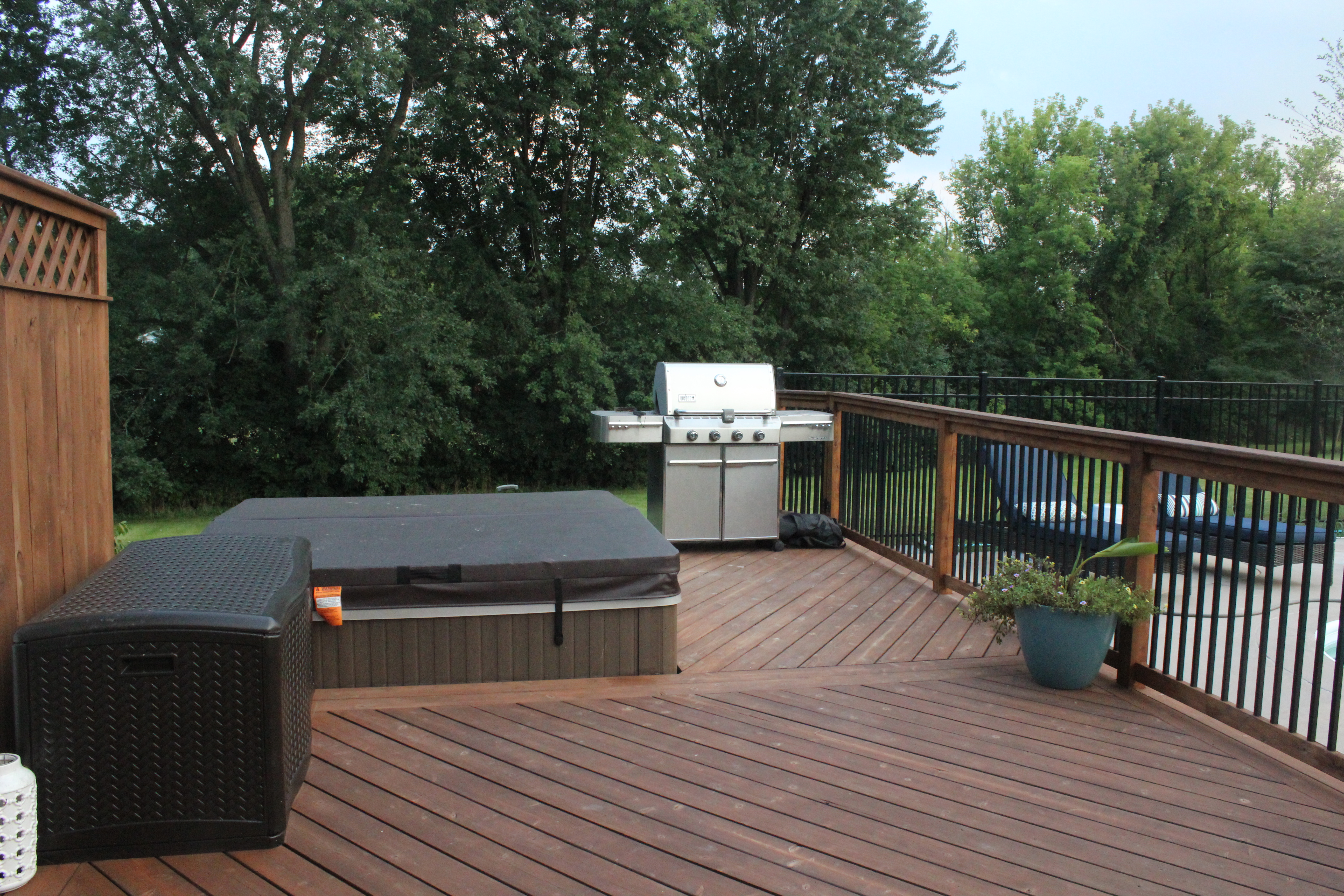 Ben also built that fence on the left for safety reasons because it drops down to the basement stairs.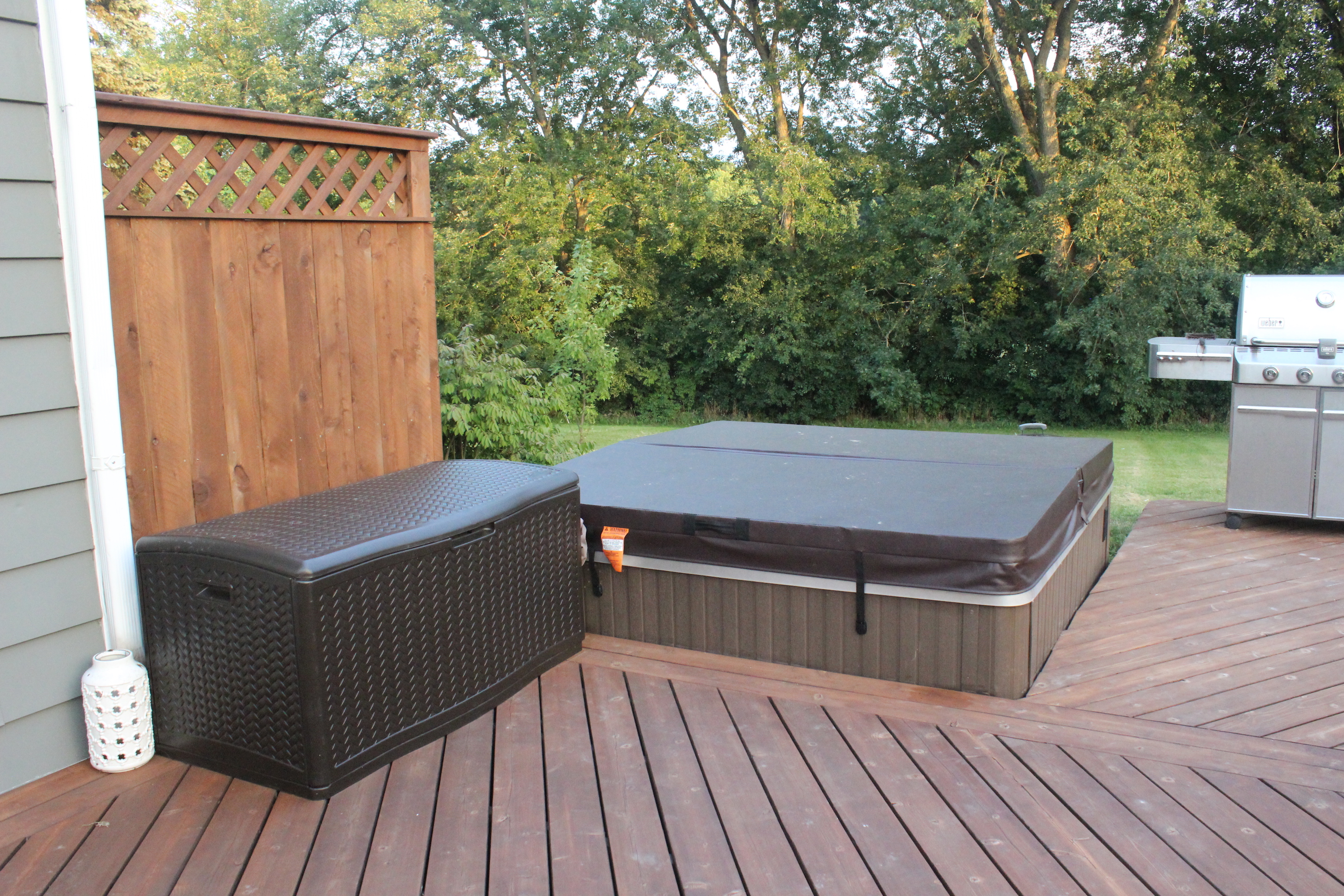 Outside of the pool/deck area we have a little fire pit area with adirondack chairs (from Ace Hardware here) and a fire ring.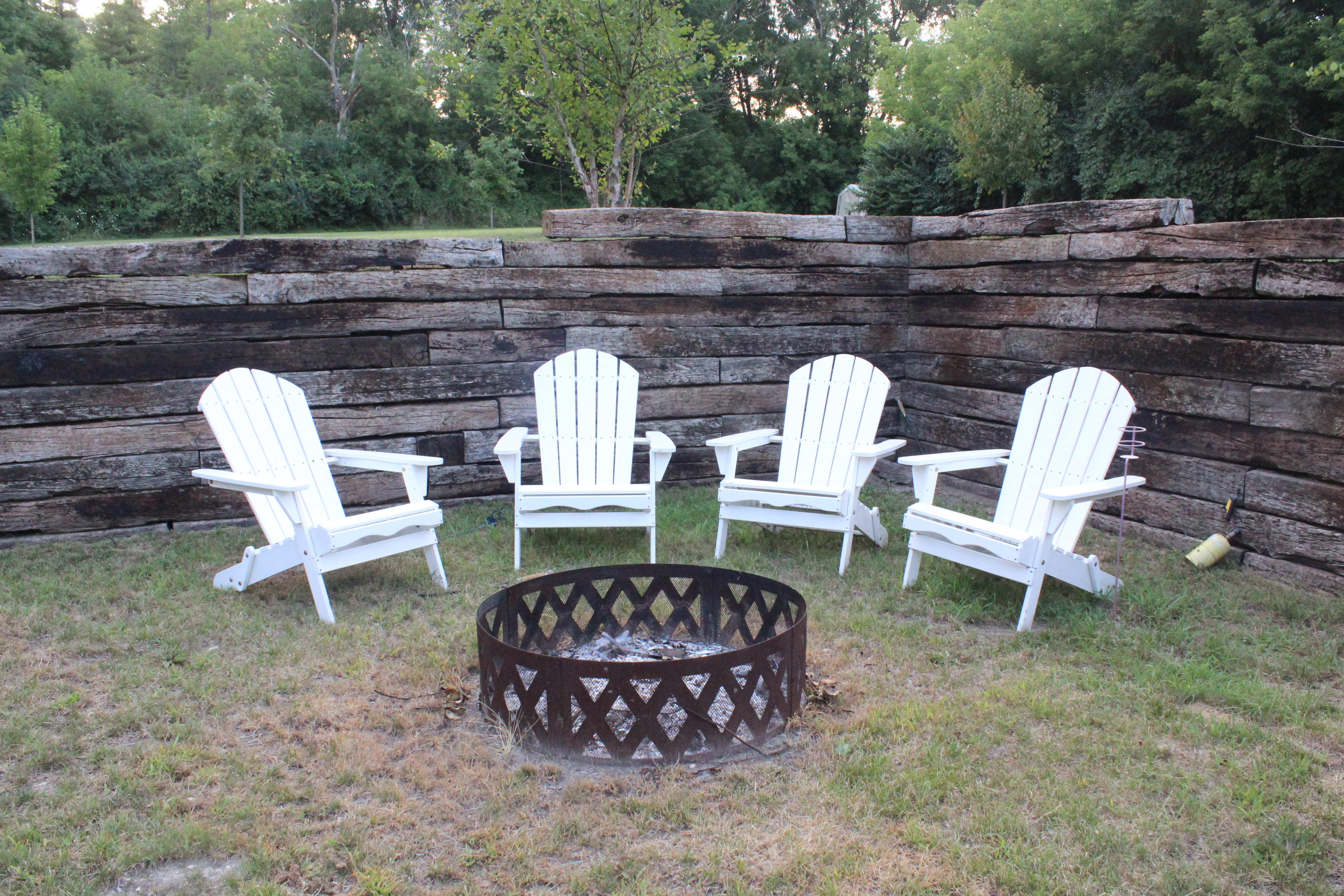 We plan to do a recessed stone fireplace (like this) next year, but for now it gets the job done.
We also installed a playground (used off of Craigslist), and gave it a facelift by re-staining it (same color as the deck) and putting in a sandbox. Our 2-year-old loves it.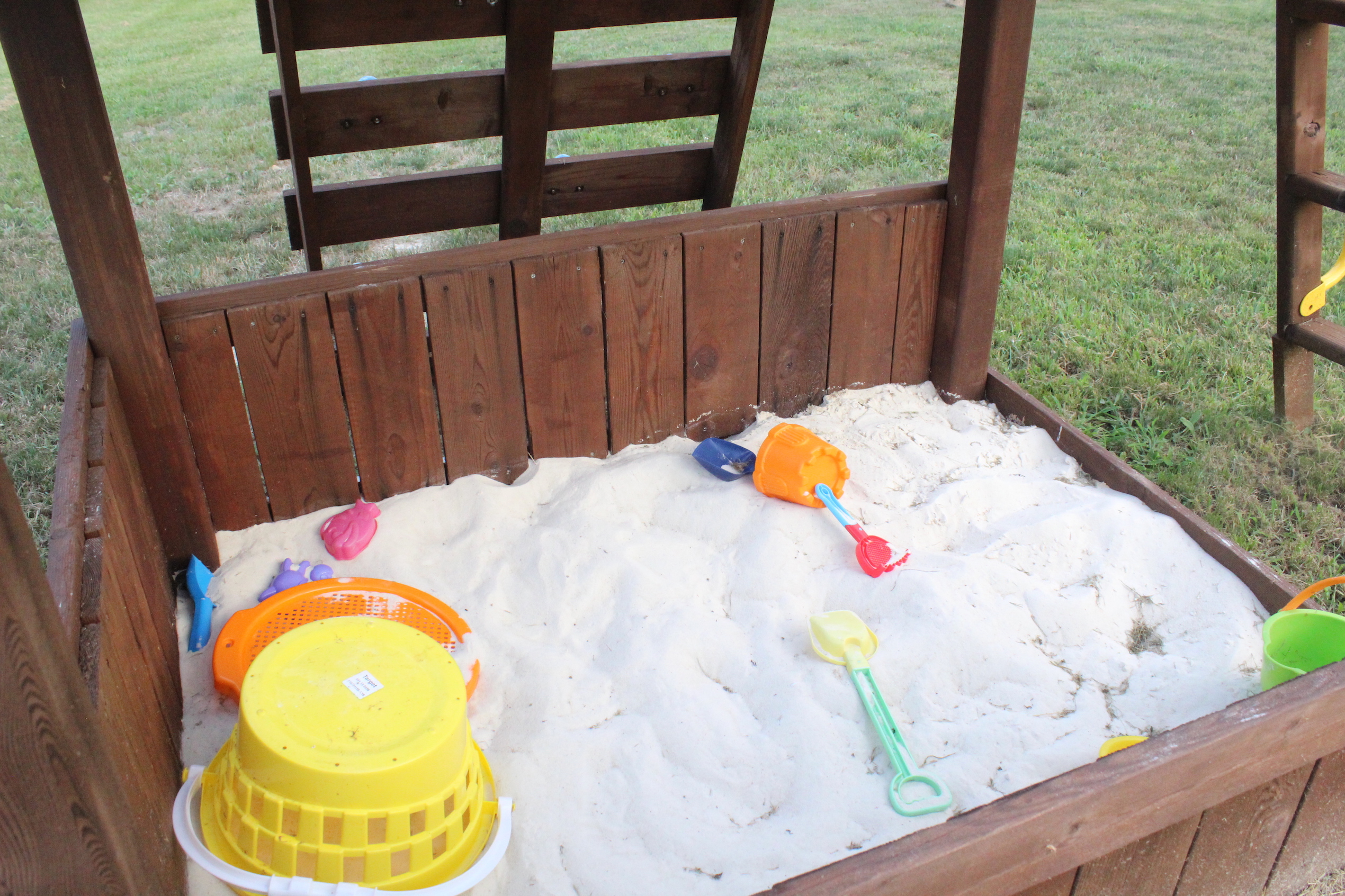 Finally, let's look at a few before and afters.
Here's the scariness it was when we bought it: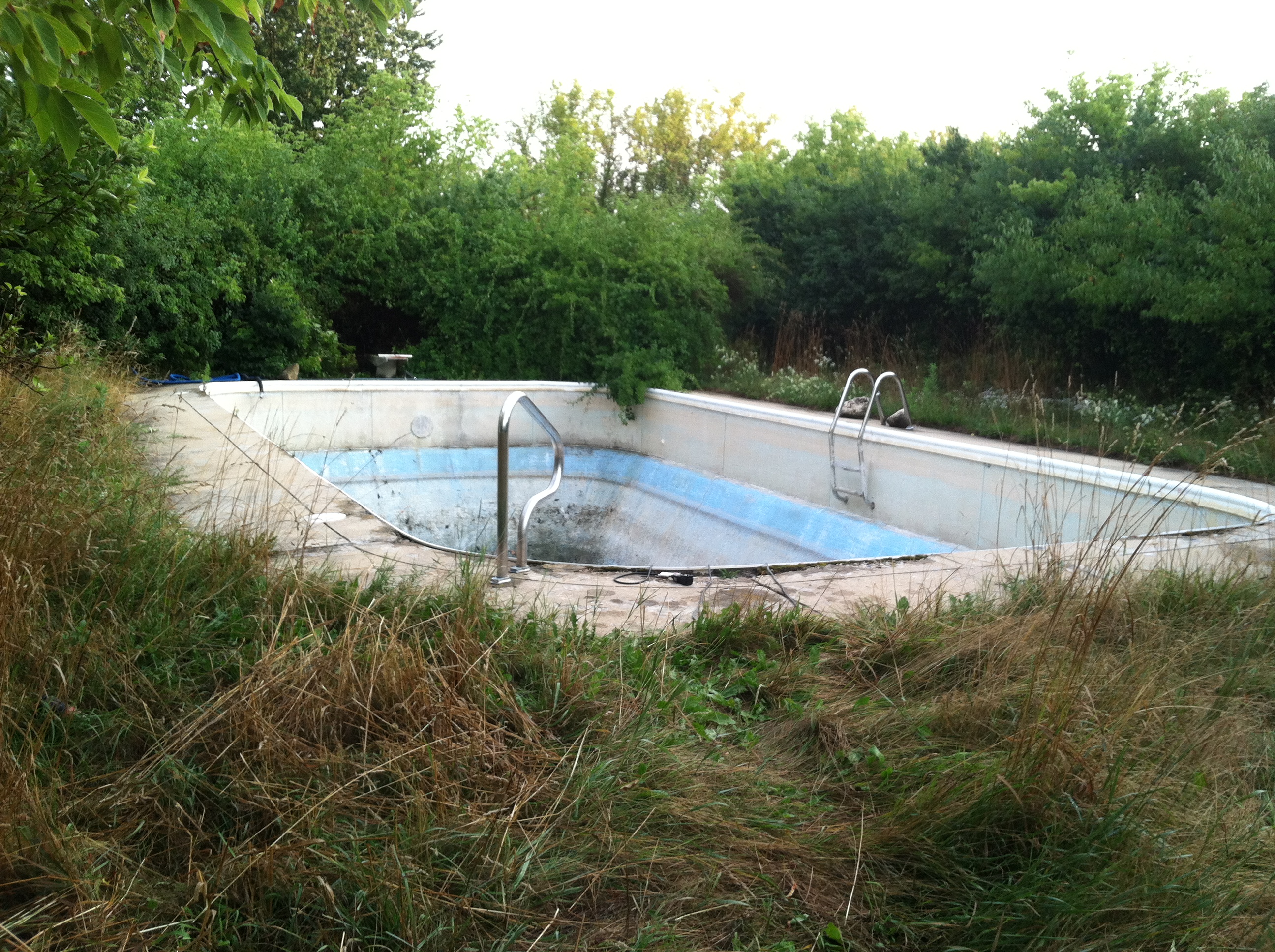 And a similar view now: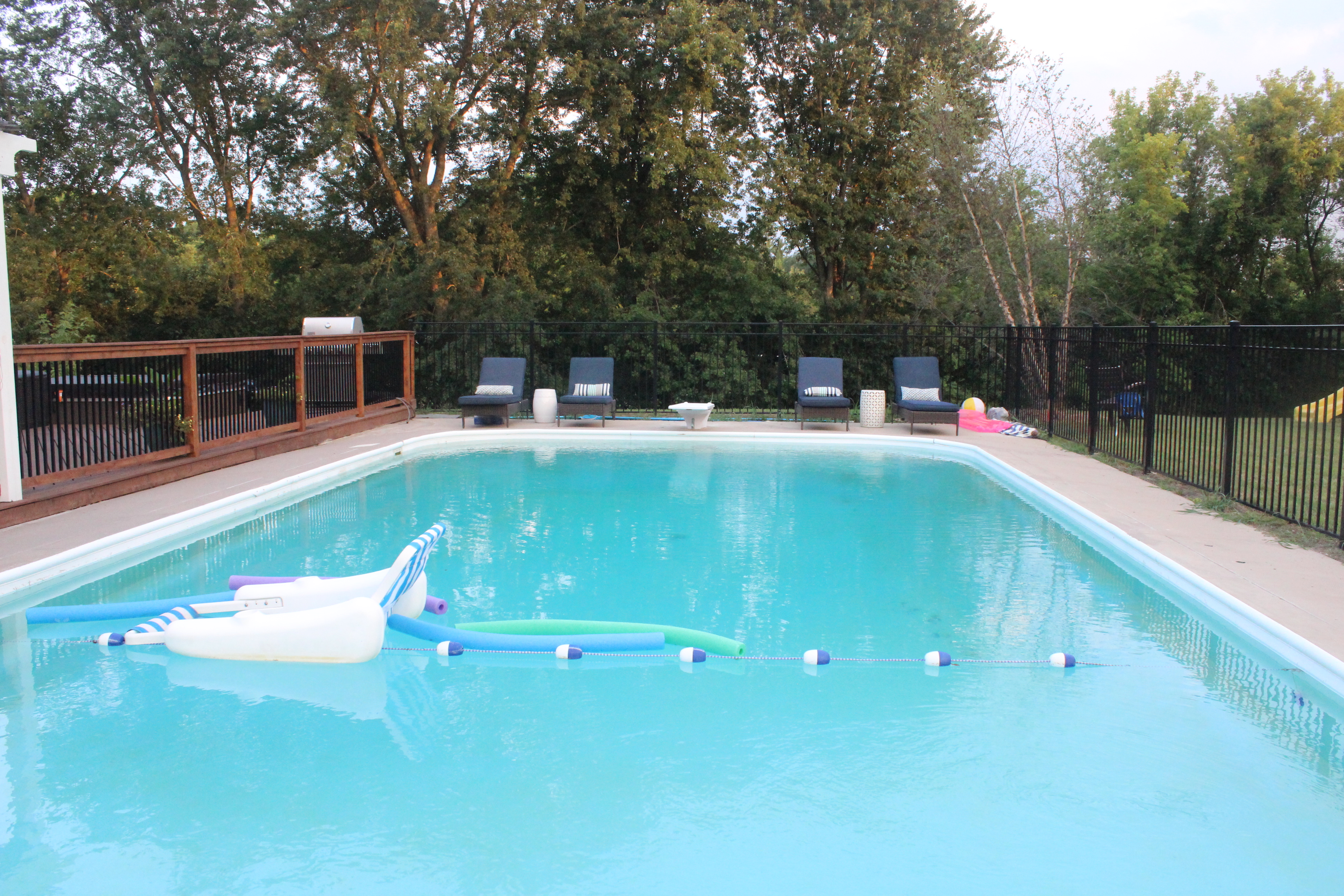 A photo from 2013 when we were digging out the retaining wall: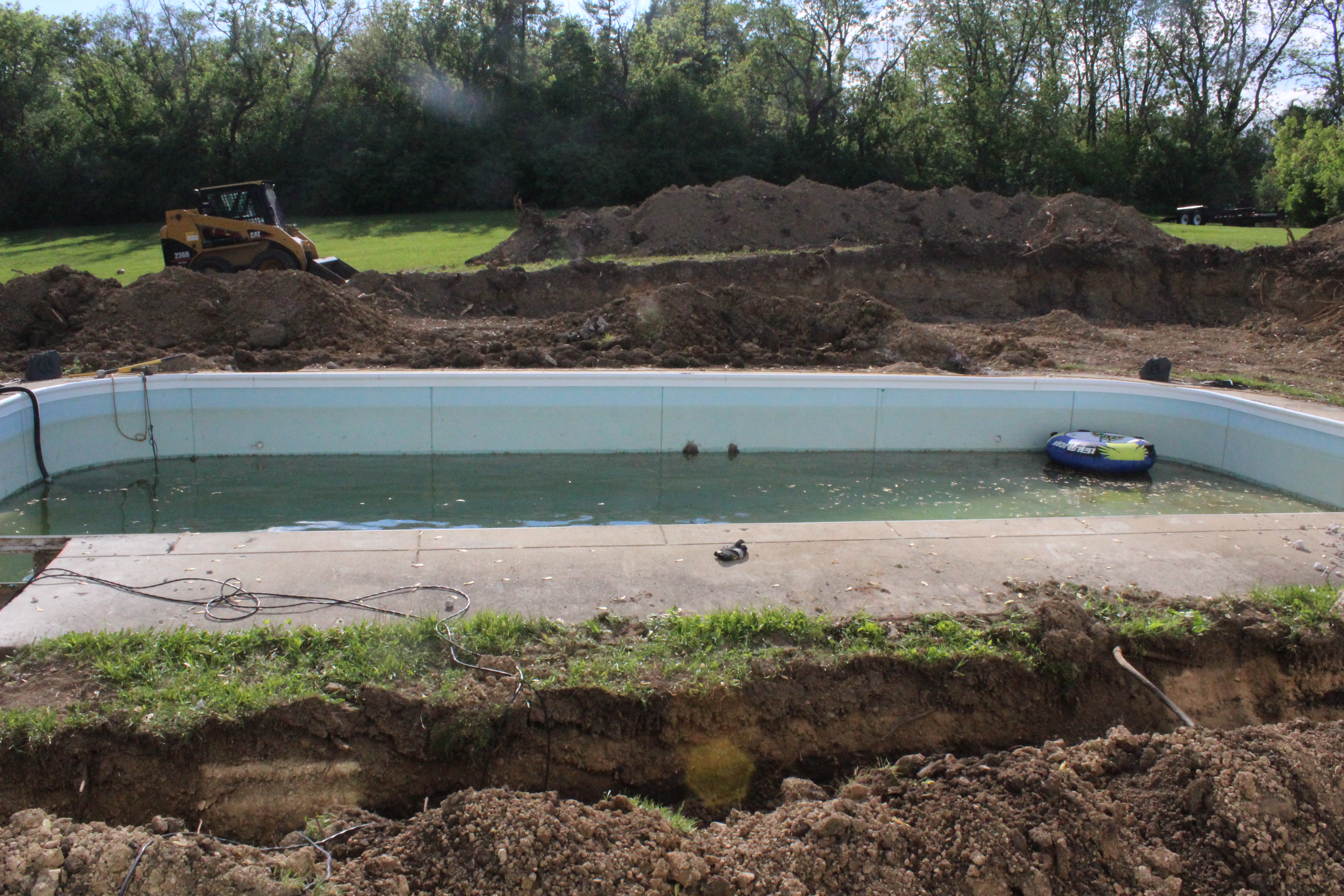 And now: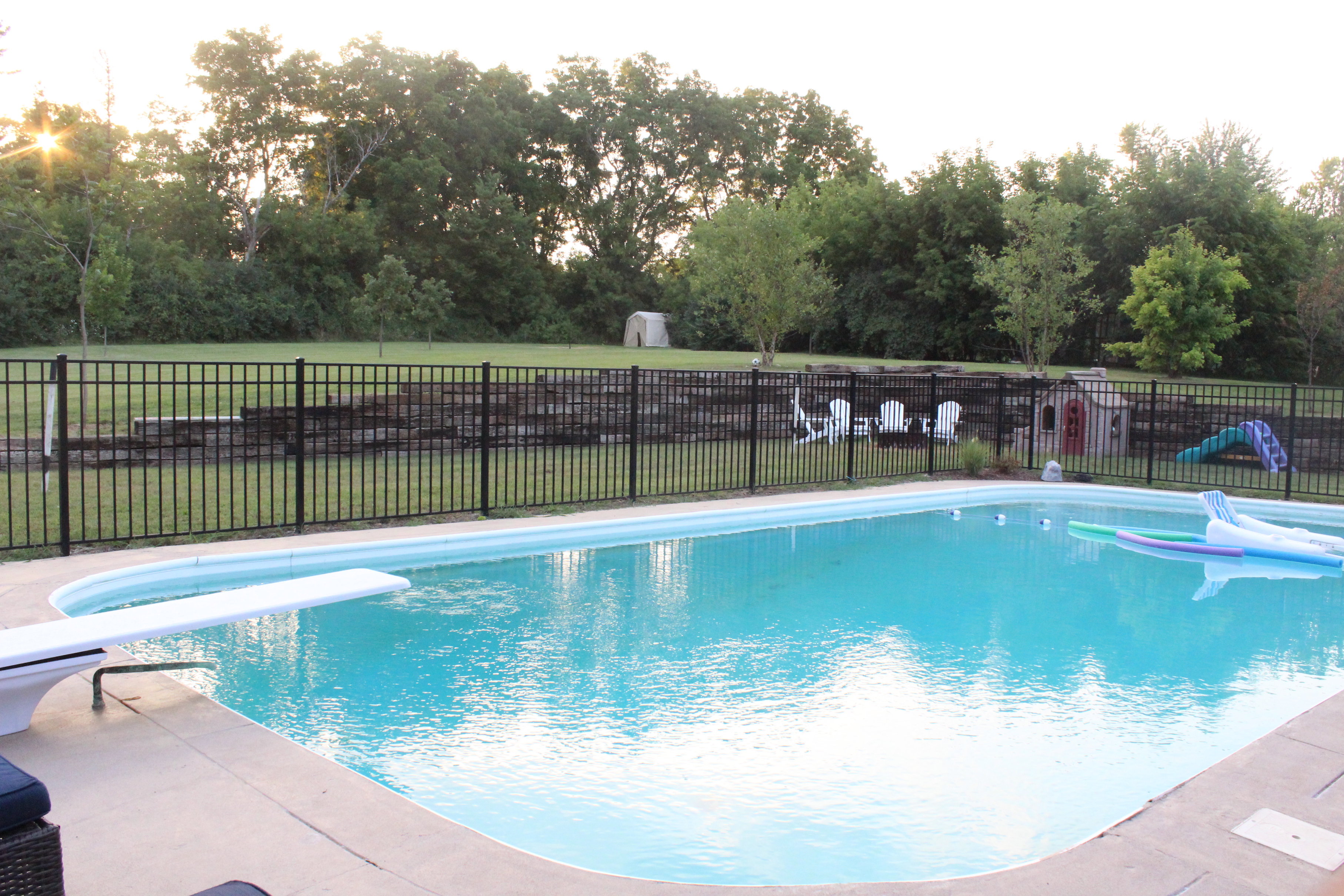 Another before from almost 4  years ago (yikes!):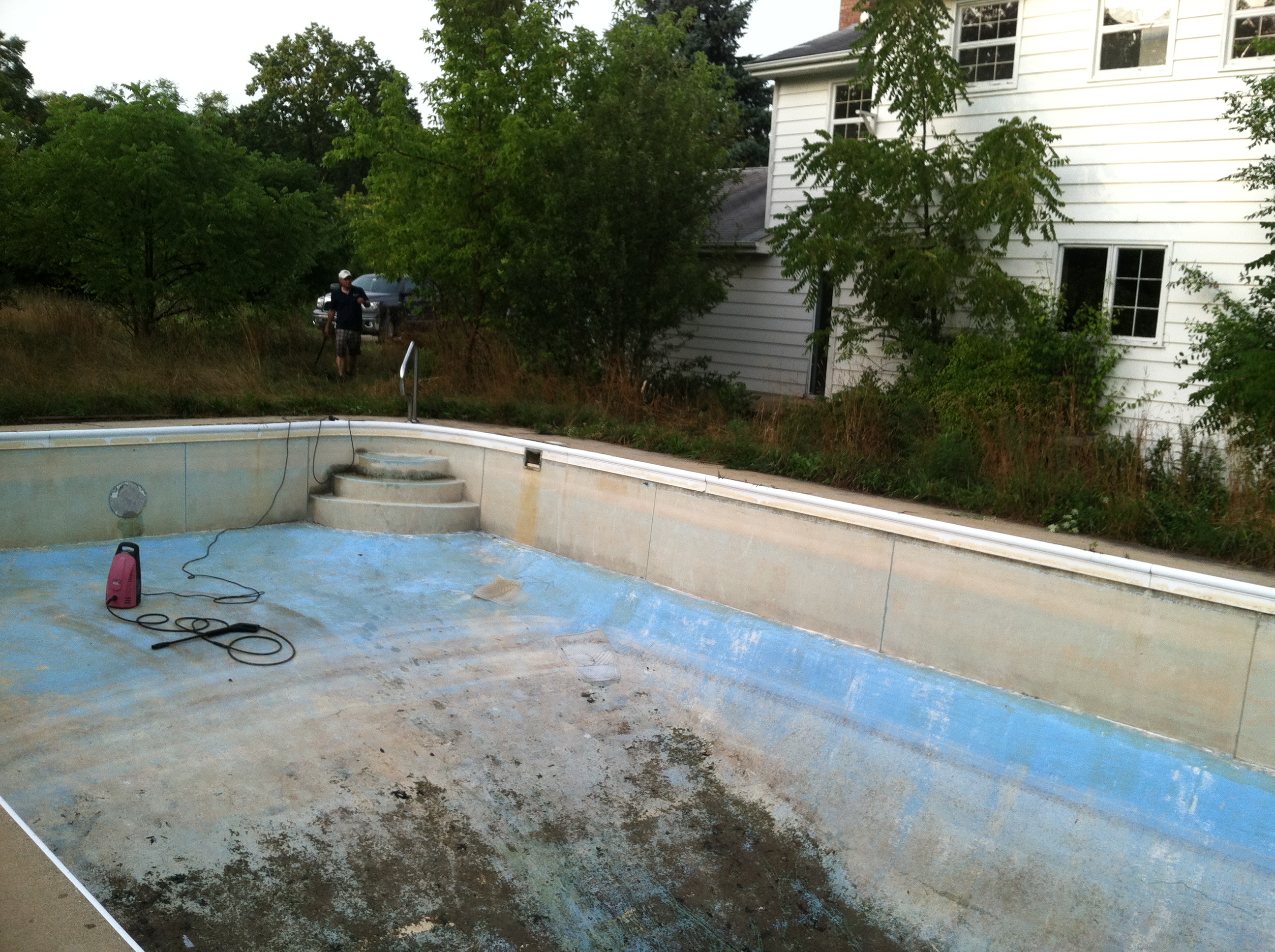 And now: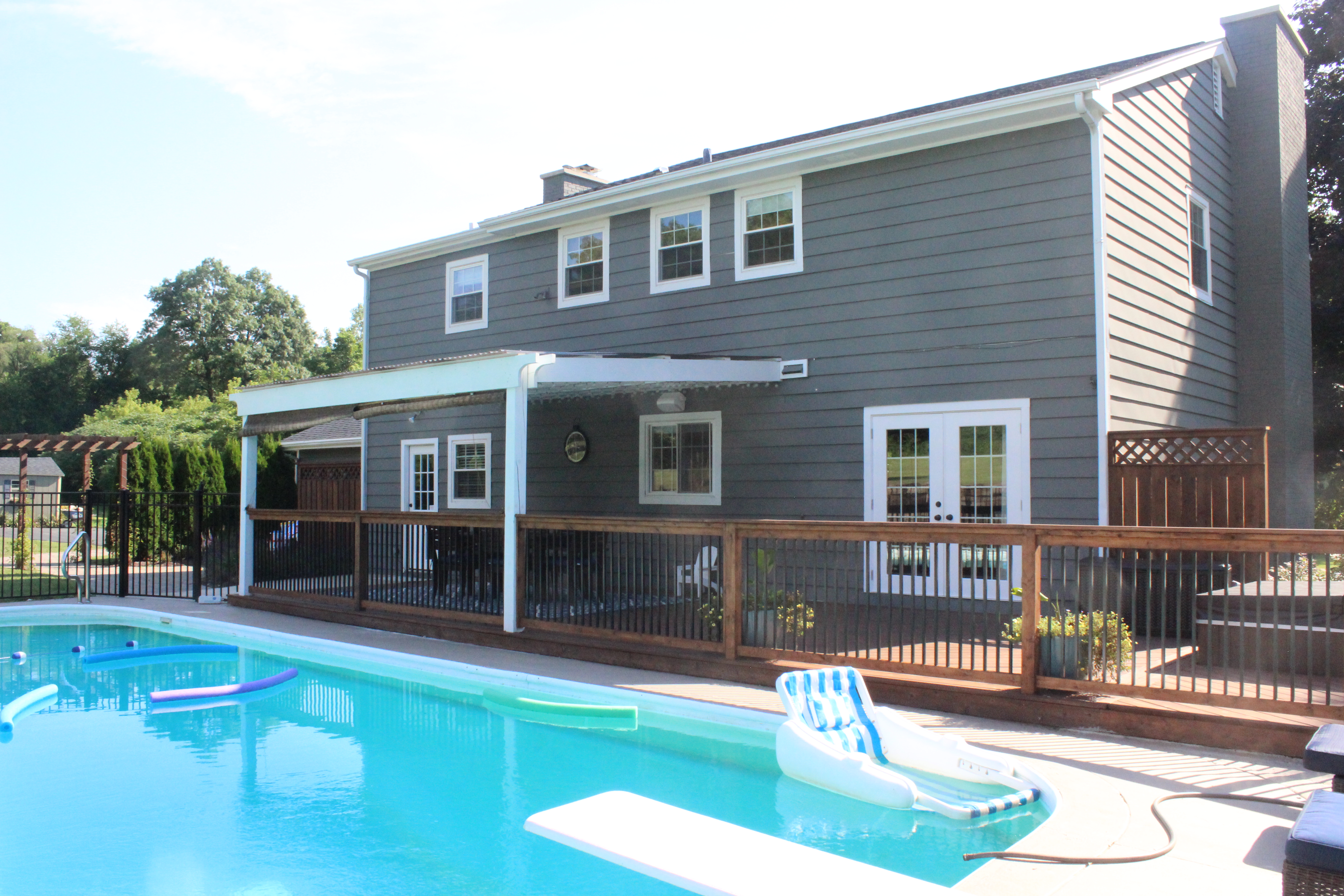 A view of the back shortly after we moved in:
And now: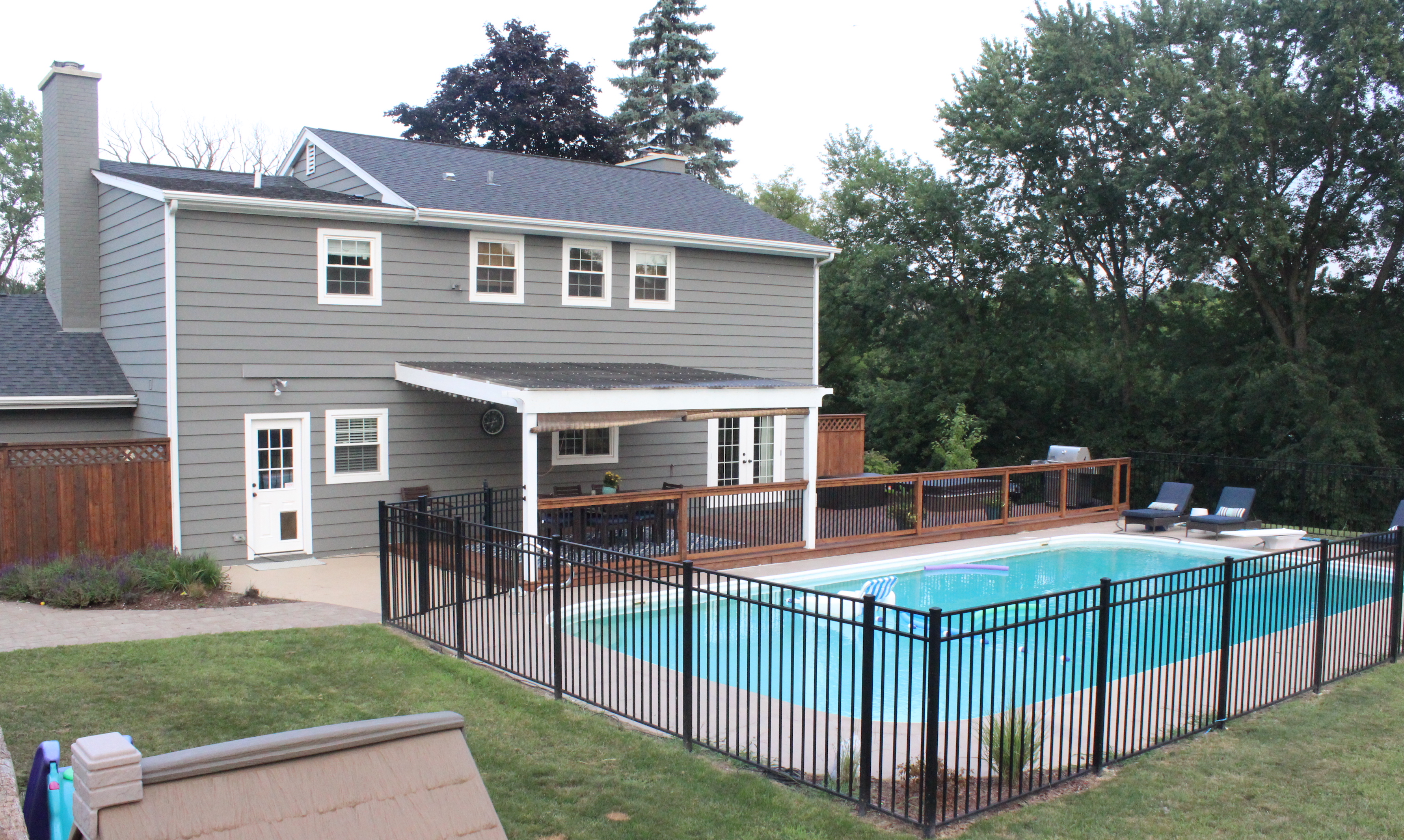 That last view is a good comparison showing our small addition to the house (to the left of the pergola). It houses the powder room and laundry room on the first floor, and our master bathroom and master closet upstairs. And we painted the house Amherst Gray (more on that here).
Phew, I'm exhausted just writing about all that!
It was definitely a labor of love though and was worth all the hard work. We still have a few more things we'd like to do which includes paving around the pool, landscaping a bit more, and doing the fire pit like I mentioned. But I'd say we are 90% of the way to calling this baby D-O-N-E.